What is Early Music?
OUR TEAM  I  BOARD OF DIRECTORS  I  EMERGING PROFESSIONALS LEADERSHIP COUNCIL I  WHAT IS EARLY MUSIC?
Early Music in a sense is any music that is not new now. Mostly, though, the term refers to music in the western tradition originating in times far earlier than our own—from Gregorian chant, say, up until some time in the early part of the nineteenth century (the point at which "mainstream" classical music takes over), a span of about a thousand years. The repertories, Medieval, Renaissance, Baroque, Classical, have needed to be rediscovered, reinterpreted, and reperformed.
A certain attitude to music-making is integral to Early Music. Some might call it letting the music speak for itself. Performers seek to find the sounds that Queen Elizabeth heard, that Bach preferred, that resounded in the Sistine Chapel. To do so requires the right hardware—period instruments and vocal techniques—and the right software: performance style, improvisatory skills, understanding of traditions and conventions. At its best Early Music is the perpetually-new creation of sound-worlds of beauty and excitement.
Thomas Forrest Kelly
Short Bibliography
Books about Early Music in General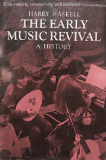 By Harry Haskell
Thames and Hudson, 1988; Dover, 1996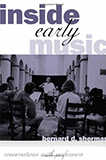 By Bernard Sherman
Oxford University Press, 1997
By Bruce Haynes
Oxford University Press, 2007
The Authenticity Wars
By John Butt
Cambridge University Press, 2002
By Nicholas Kenyon
Oxford University Press, 1988
By Richard Taruskin
Oxford University Press, 1995
Books about Performance Practices
By Ross Duffin
Early Music America Performer's Guides to Early Music; Indiana University Press, 2000
By Jeffery Kite-Powell
Early Music America Performer's Guides to Early Music; Schirmer Books, 1994; 2nd edition, Indiana University Press, 2007
By Colin Lawson and Robin Stowell
Cambridge University Press, 1999 (discusses Baroque and Classical music)