Young Performers Festival
Young Performers Festival
Early Music America recognizes that the future of early music rests in the hands of today's young performers and the institutions that shape them. The Young Performers Festival brings together students and ensembles from colleges, universities and conservatories throughout North America to perform a series of concerts.
McGill Baroque Ensemble
McGill Baroque Ensemble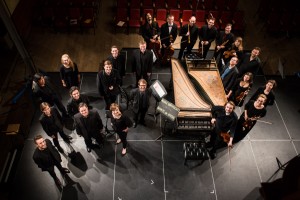 Thursday, June 15, 2017, 3:30pm
USC Thornton Collegium Workshop
USC Collegium Workshop
Friday, June 16, 2017, 10:00am
Past Participants
2016: Berkeley
USC Thornton Sinfonia
Opera Nova (Indiana University)
Bowling Green State University Early Music Ensemble
Case Western Reserve University Collegium Musicum Medieval Ensemble
University Baroque Ensemble at Brigham Young University of Idaho
2015: Boston
Case-Western Reserve University Baroque Chamber Music and Dance Ensemble
The University of Northern Texas
The Peabody Conservatory
Oberlin University Baroque Ensemble
Indiana University
McGill University
Seattle Historical Arts for Kids
2014: Berkeley
Arethusa Musica
McGill School's The Victoria IV Madrigal Ensemble
Case-Western Reserve University Baroque Chamber Music and Dance Ensemble
Liaison Baroque Ensemble
USC Thornton School's Baroque Sinfonia
Musa Baroque Ensemble
2013: Boston
Tufts Early Music Ensemble
Longy School of Music Bard College; Longy Dufay Ensemble; Longy Lassus Consort and Longy Bach Cantana Project
Juilliard 415
The Peabody Consort
University of North Texas Baroque Orchestra and Collegium Singers
Florida State Early Music Ensemble
University of Southern California Thornton School of Music, Baroque Sinfonia
Case Western Reserve University, Collegium Musicum
Oberlin Baroque Ensemble
McGill University Baroque Orchestra
The Sebastians
2012: Berkeley
San Francisco Conservatory of Music Baroque Ensemble
University of California at Berkeley Baroque Chamber Ensemble
University of North Texas Collegium Singers
Stanford University Baroque Ensemble
Case Western Reserve University Baroque Ensemble and Collegium Musicum
University of Southern California Thornton Baroque Sinfonia
2011: Boston
Stony Brook Baroque Players
Harvard University Early Music Society
CWRU/Cleveland Institute of Music Baroque Orchestra
McGill University Baroque Orchestra
University of North Texas Baroque Orchestra and Collegium Singers
Brandeis Early Music Ensemble
Longy School of Music Collegium Musicum
Peabody Conservatory ensembles
Case Western Reserve University Violin Band and Collegium Musicum
Boston University Chamber Ensemble
Oberlin Baroque Ensemble
¡Sacabuche! from Indiana University
University of Southern California Collegium Musicum and Thornton Baroque Sinfonia
EMA Festival Ensemble
Application Process
In 2017, EMA will select 6-8 ensembles to perform as part of its Young Performers Festival from June 12-16, 2017 in Boston, Massachusetts during the Boston Early Music Festival. EMA will cover the cost of the venue rental for the Festival and will publicize the Festival concerts through its newsletter, website, and magazine, among other things.
Eligible Applicants
Applicants must be directors of secondary, college, or university early music ensembles from schools in the US or Canada. Although the term "early music" is used in different ways at different institutions, for the purposes of this Festival, it is used to denote an ensemble that fits the following criteria:

The ensemble devotes its attention primarily to music before ca. 1750.
The ensemble gives attention to matters of historical performance.
Where instrumental performance is involved, the ensemble performs on period instruments OR is working towards the goal of using a period-instrument based group.

The majority of participants must be students enrolled in a degree program at the ensemble's home institution. The ensemble may include non-student community participants and/or faculty members as well, as long as they are less than one-third the members in the ensemble.
Either the director of the ensemble or the school must be a member of EMA for AT LEAST 6 months prior to the application deadline. New members must join by June 9, 2016 and all existing members must be current at the time of their application submission in order to qualify.
If you have specific questions about eligibility, please email
info@earlymusicamerica.org
Judging
A panel of three judges will select the ensembles for the Young Performers Festival. These judges, selected by EMA, but not members of the EMA board or persons affiliated with any of the institutions applying for the Festival, will judge the ensembles anonymously. Selections are made based on the strength of the application and the performance quality of the recordings. Issues including but not limited to need, feasibility of project and creativity will also be considered. Preference for the Yong Performers Festival will be given to ensembles that have not previously been selected.
Those selected for the Young Performers Festival will be notified by January 20, 2017, at the latest.
Required Materials
Please make sure your submission materials relate to your proposed program. We understand that you may not have your final program set by the application deadline.
Contact Information
Ensemble Information that includes the following:

A title and brief description of the Festival performance to be funded
Number of students in the ensemble
Number of community members in the ensemble
A brief description of the activities of the early music ensemble and its place within its institution

Three recent concert programs
Performance recordings. Recorded materials should meet the following requirements:

A recording of the ensemble from live performances, with a minimum of 10 minutes and no longer than 30 minutes of total audio and/or video files.
The recorded examples need not feature the exact same performers (it is assumed that student ensembles change somewhat in their membership from year to year) or the same proposed program, but a substantial number of the performers should be the same, and the performance should represent only the highest of quality recordings.
MP3 files, or links to YouTube or other sites are acceptable.
May be multiple short selections, or one long selection.
Applicants who are uploading multiple YouTube links can include them in one document vs. uploading multiple file selections.

A list of pieces performed in the submitted recording(s)
Additional Comments
All ensembles must submit an application to be selected for the Young Performers Festival. Ensembles applying for the Festival are eligible for a YPF Travel Grant and must submit a separate application in order to be eligible to receive travel grant funding. EMA awards YPF Travel Grants of $1,000 each to a small number of ensembles selected for the Festival. 
Click here for more information about YPF Travel Grants.
Application & Deadline
The application is now closed. Thank you for applying. Please check back in September 2017 for updates.