2020 North Carolina HIP Music Festival
January 31 @ 3:00 pm

-

February 28 @ 9:30 pm

EST

$85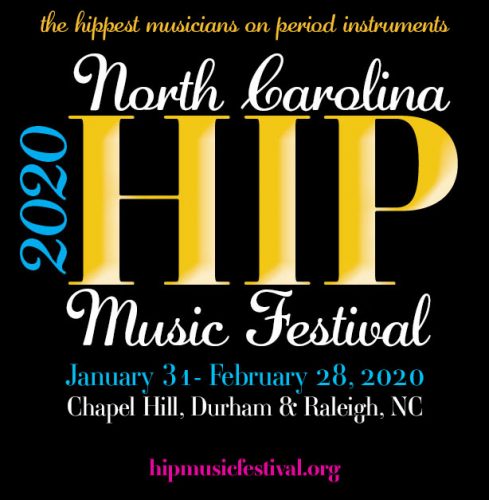 DuDurham, NC – The Mallarmé Chamber Players is proud to announce the line-up for the fifth bienniel North Carolina HIP Music Festival. The HIP (Historically Informed Performance) festival will be performed on Renaissance, Baroque and Classical era period instruments with historical performance practices.
The festival will run from January 31 through February 28 in various venues in Chapel Hill, Durham and Raleigh in North Carolina. Drawing from the wealth of outstanding early music ensembles based in North Carolina as well as renowned international musicians, the NC HIP Music Festival will showcase over 100 musicians from eight different organizations and two university music department in 16 events.
An HIPster pass to gain admission into all events is just $85.
FESTIVAL LINE-UP:
Friday, January 31, 3:00pm The Cedars, Chapel Hill
LECTURE: How the Early Music Movement Got to be HIP plus a period-instrumental Zoo! (FREE)
Richard and Judith Fox – presenters
Saturday, February 1, 3:00pm Hayti Heritage Center, Durham
CONCERT: Everywhere a Theorbo (Tickets $25/$10)
Mallarmé Chamber Players: Music of William Lawes, Thomas Baltzar, Bellerofonte Castaldi, Robery DeVisee and Dario Castello William Simms and Richard Stone – theorbo; Elizabeth Phelps and David Wilson – violin; Gail Ann Schroeder and Brent Wissick – viola da gamb; Suzanne Rousso – viola
Saturday, February 1, 8:00pm, Baldwin Auditorium, Durham
CONCERT: Randall Love – A Retrospective Recital (FREE)
Works by Beethoven and Vorisek played on an 1815 Streicher copy by Thomas and Barbara Wolf
Randall Love – fortepiano and piano
Sunday, February 2, 5:15pm Duke Chapel
CONCERT: Duke Bach Cantata Series (FREE)
J.S. Bach – Cantata BWV 9 Es ist das Heil uns kommen her; BWV 55 Ich armer Mensch, ich Sündenknecht; BWV 151 Süßer Trost, mein Jesus kömmt
Philip Cave – conductor; Elizabeth Joyner – soprano; Tamsin Simmill – alto; Daniel Shirley – tenor
Tuesday, February 4, 7:30pm Person Recital Hall, UNC Chapel Hill
LECTURE/CONCERT: Madama Europa di Rossi: A Jewish soprano in 16th century Mantua (FREE)
Jeanne Fischer – soprano; Brent Wissick – viola da gamba
Thursday, February 6, 7:30pm St Paul's Lutheran, Durham
CONCERT: Sounds of Sacred Italia ($15 suggested donation)
Delve into the mysteries of Sacred Italia. Rarely performed music from turn-of-the-17th century Italy for soprano, sackbut and organ.
Andrea Edith Moore – soprano; Michael Kris – sackbut; Jaqueline Nappi – harpsichord
Friday, February 7, 7:30pm St Stephen's Episcopal Church, Durham
CONCERT: Genuine George ($15 suggested donation)
Baroque and Beyond Music of Georg Phillip Telemann, Georg Muffat, George Frederic Handel
Tamsin Simmill – mezzo-soprano; Matvey Lapin – baroque violin; Chris Nunnally – baroque cello;
Beverly Biggs – harpsichord
Saturday, February 8, 3:00pm Hayes Barton UMC, Raleigh
CONCERT: Bach to Mozart (Tickets: $20/$15/$5)
Raleigh Camerata Orchestra music of C.P.E. Bach, F.J. Haydn and W.A. Mozart
Kelly Nivison – flute/artistic director
Sunday, February 9, 3:00pm Nelson Music Room, Durham
CONCERT: From Venice to Vienna ($15 suggested donation)
The Vivaldi Project String Trios by Vivaldi, Maddalena Sirmen, Francesco Zannetti, Paul Wranitsky, Ludwig van Beethoven and F.A. Hoffmeister
Elizabeth Field – violin; Allison Nyquist – violin/viola; Stephanie Vial – cello
Thursday, February 13, 7:30pm, St Paul's Lutheran, Durham
CONCERT: Cor mio Madrigal settings on ardent poetry of G.B. Guarini. Rossi, d'India, Ward ($20 suggested donation)
Viola da Gamba Society of America – Central Carolina Consort of viols
Salomé Sandoval – soprano; Alison Crum; Roy Marks; Gail Ann Schroeder and Brent Wissick – viols
Friday, February 14, 7:30pm First Presbyterian Church Durham
CONCERT: We ♥ Bach (Tickets $25/$10)
NC HIP Festival Orchestra – Mallarmé Chamber Players and NC Baroque Orchestra
Music of J.S. Bach – Brandenburg Concerti Nos. 4-6, Orchestral Suite no. 2  Jaap ter Linden – leader, cello and viola da gamba
Frances Blaker – recorder; Kathy Stewart – traverso and recorder; David Wilson and Janelle Davis – violin soloist; Jennifer Streeter – harpsichord; Suzanne Rousso and Joey O'Donnell – viola
(Sponsored by the Mary Duke Biddle Foundation)
Saturday, February 15, 5:00pm HIPster Reception, Durham – Private Home (sponsored by Alley Twenty-Six)
Saturday, February 15, 8:00pm Baldwin Auditorium, Durham
CONCERT: Beloved Baroque (Tickets $25/10)
Akademie für Alte Musik Berlin (Duke Performances)
Music of J.P. Lully, G. F. Handel, Antonio Vivaldi, Johann Pachelbel, C.P.E. Bach and J.S. Bach
Tuesday, February 18, 7:30pm St Paul's Lutheran, Durham
CONCERT: German Baroque Sacred and Secular Cantatas ($20 suggested donation)
Nathan Medley – countertenor, Jennifer Streeter – organ
Thursday, February 20, 7:00pm St Paul's Lutheran, Durham
LECTURE/CONCERT: Capturing Caravaggio ($15 suggested donation)
Capturing the essence of Caravaggio's painting through music of the late 16th century and early 17th century Italy. Pre-concert lecture given by Richmond artist Miguel Carter-Fischer on Caravaggio's works and perception through music.
Miguel Carter-Fischer – lecturer; Nicholas Di Eugenio & Elizabeth Phelps – violin; Oliver Weston – cello; Jacqueline Nappi – harpsichord.
Sunday, February 23 1:00pm Sarah P. Duke Gardens, Durham
FAMILY CONCERT: TBA (FREE)
Mallarmé Chamber Players
Friday, February 28, 7:00pm St Paul's Lutheran, Durham
CONCERT: Waytes of England: Masses, Motets, and Music of the Watch ($10 suggested donation)
Forgotten Clefs presents sacred polyphony of the English Renaissance with music by William Byrd, John Dunstable, Robert Parsons, Thomas Tallis and more
Chris Armijo  – recorders, percussion; Keith Collins – recorders, shawm, dulcian; Adam Dillon – recorders, sackbut;;Sarah Schilling – recorders, shawm, dulcian; Kelsey Schilling – recorders, shawm, dulcian