Add Your Event
View, Edit, or Delete Your Events
The EMA Member Concerts & Events Calendar is for time-sensitive events, such as in-person concerts, livestreaming performances or video
premieres
, and live online events such as webinars.
Videos available on-demand (temporarily or permanently) should not be submitted as multi-day or recurring events.
Information about on-demand viewing periods are welcome as
community news and press releases
.
The Newberry Consort Presents: A Mexican Christmas
December 11 @ 3:00 pm

-

4:30 pm

CST

$10 – $25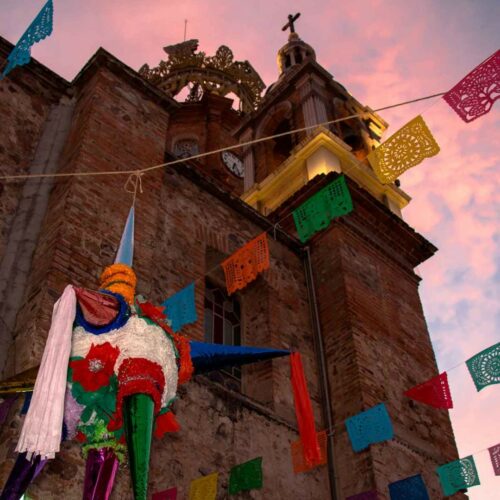 Joyous holiday music from the convents and city streets of New Spain.
Imagine yourself in 17th-century Mexico City: it's Christmas, and the glorious sound of the singing nuns of the Convent of the Encarnación soars over the walls of the cloister and fills the square.  On the other side of the plaza, a street band of guitars, harp, violins, percussion and singers burst into the joyful melodies and rhythms of the traditional "villancicos", the folk-based songs of praise and celebration.  Our two ensembles, one inside the cloister walls and one without, will create this feast for the ears with music by composers from both Old and New Spain, featuring our own nun's ensemble of the Newberry Consort directed by Ellen Hargis, and our guests from EnsAmble Ad-Hoc led by traditional and early music specialists Francy Acosta and Jose Luis Posada.
The repertoire for this beloved program is drawn from The Newberry Choirbooks (a mass setting by Spanish composer Mateo Romero), music from the Puebla Cathedral Archives (villancicos by Juan de Padilla), and treasures from many other manuscripts, researched and arranged by Ellen Hargis, Jose Luis Posada and Francy Acosta.  Rarely heard instruments such as the bajón (Spanish baroque bassoon), Leona (large guitar from Veracruz) and the quijada de burro (a percussion instrument made from a burro's jawbone), will join seventeen singers to create the authentic soundscape of a Mexican Christmas.
Family-friendly and child discounts are available for tickets not purchased as part of a subscription package. Discounts include a 10-person family pass for $100, free child tickets, and $10 student tickets.
General admission for this special event is $25 when purchased without a subscription.
The EMA Member Concerts & Events Calendar is for time-sensitive events, such as in-person concerts, livestreaming performances or video premieres, and live online events such as webinars. Videos available on-demand (temporarily or permanently) should not be submitted as multi-day events. Please submit Early Music News & Press Releases about these or other activities.
Highlights from this calendar are included in the weekly E-Notes email newsletter (Tuesdays). Selections are made based on variety of event types and geographic regions.
EMA does not share non-EMA events on our social media platforms.