The Events Calendar is best for live, time-sensitive events, such as in-person concerts, livestreaming performances/premieres, and live broadcasted events such as webinars.
On-demand or non-time-sensitive performances should be submitted to the Online Performances. 
AEM ONLINE – Corelli Trio Sonatas with Beth Wenstrom and Hsuan-Wen Chen – AUGUST 8
August 8 @ 1:00 pm

-

2:30 pm

EDT

$25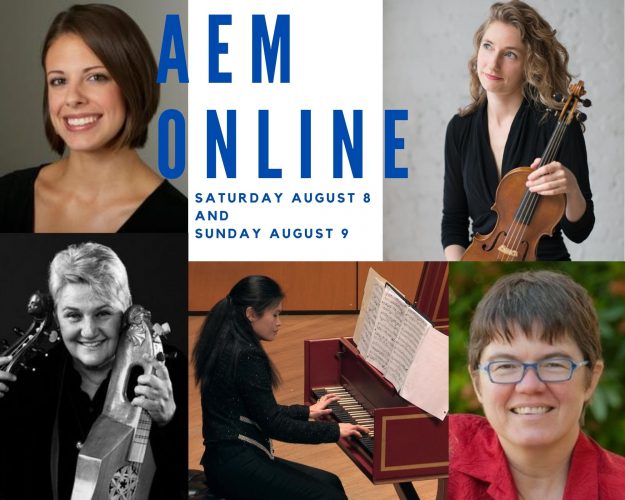 As musical tastes and styles changed rapidly during the 17th and 18th centuries, Corelli's music stood the test of time. He was revered and lauded among his contemporaries and his reputation remained strong for decades to come. Corelli's sonate da chiesa and sonate da camera set two kinds of models for his trio sonatas. Sonate da chiesa were written with the Catholic liturgy in slow-fast-slow movements, while the sonate da camera were written for entertainment purposes set in various dance movements.
Instrumentalists are particularly fond of Corelli's elegant and virtuosic style, which also serves as the perfect tool for learning Baroque technique.
In this class we will demonstrate Baroque violin techniques through exploring two different styles of trio sonatas, talk about the role of continuo, and have fun playing together. Open to: upper intermediate to advanced players of violin, recorder, and other melody instruments, and all continuo players.  Pitch: A=415.
REGISTRATION OPENS MONDAY, AUGUST 3!