The EMA Member Concerts & Events Calendar is for live, time-sensitive events, such as in-person concerts, livestreaming performances/premieres, and live online events such as webinars.You are also welcome to submit Early Music News & Press Releases about these or other activities.
AEM ONLINE – Ex Tempore Playing: A Gateway to Early Medieval Improvisation with Norbert Rodenkirchen
October 4 @ 1:00 pm

-

2:30 pm

EDT

$25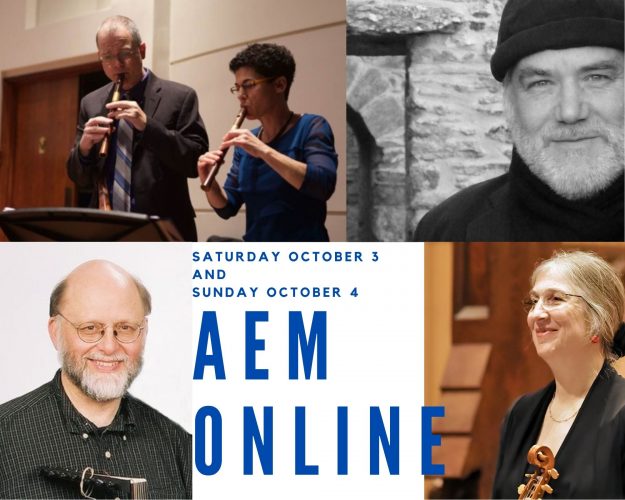 Surviving information about Medieval instrumental improvisation practice is rare and fragmentary. Based on a combination of intensive source studies and a personalized approach to Medieval monodic improvisation Norbert Rodenkirchen – Sequentia´s flautist – offers a practical workshop on "ad hoc" modal invention.
Besides presenting some easy new exercises Norbert will also introduce selected original didactical tools from Medieval cathedral schools. We will try out original modal patterns and memorization formulae from the 11th to 13th century to find a fresh and profound way to invent our own estampies and ductiae,  just like students in Medieval times. All musical materials will be presented in easy, modern notation. The aim will be to explore our own melodic inventions deriving from these notes, not just to play what is written.  Open to: all instrumentalists are invited to join the workshop, actively or as auditors. The content is geared toward players with a high level of facility on their instrument. Pitch: A = 440. Tuning: Norbert will be using Pythagorean tuning, which has wide thirds and pure fifths.  Participants will be muted but may wish to adjust their tuning since they will hear Norbert while playing.
Join us for AEM ONLINE classes each weekend! Register for any number of sessions – classes are $25 per session. After you register, you will receive an email with a link to a webpage for each class, where you can access music and any other class materials, along with the Zoom session link. Class sessions run 90 minutes, with 15 minutes for introductions and last minute tech help, and 75 minutes of class time. Class sessions are offered using the Zoom meeting app, or your web browser.