The EMA Member Concerts & Events Calendar is for live, time-sensitive events, such as in-person concerts, livestreaming performances/premieres, and live online events such as webinars.You are also welcome to submit Early Music News & Press Releases about these or other activities.
Highlights from this calendar are included in the weekly E-Notes email newsletter (Tuesdays). Selections are made based on variety of event types and geographic regions.
EMA does not share non-EMA events on our social media platforms.
AEM ONLINE – Hume! Workshop and Master Class with Martha McGaughey, viol
January 10 @ 3:00 pm

-

4:30 pm

EST

$25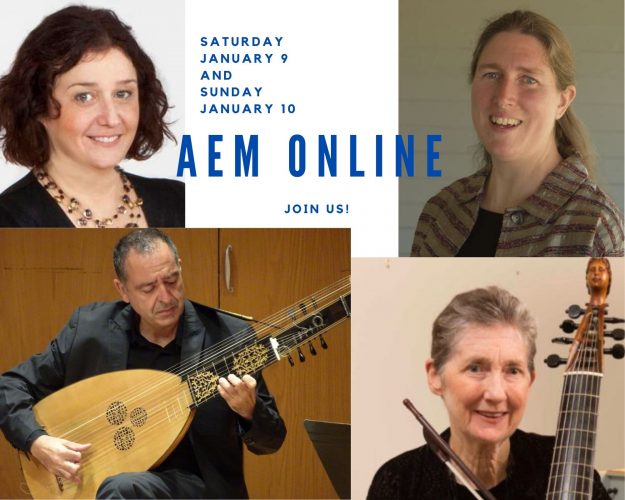 The quintessentially British composers Tobias Hume and Matthew Locke overlapped by a few years. Their music is typical of English viol music: it is both idiomatic for the viol and also quirky, even weird, but very rewarding to play. Here's your chance to perform and get coached on that piece of Hume you've been working on and/or to play some Locke duos with Martha (weirdness guaranteed!)
lass format: Up to two participants will play a piece of their choice from
Hume – The First Book of Ayres. You can choose either to play "live" or to
upload a video of yourself playing the piece. If you wish to perform in the
master class section you must register for the class on Monday, January 4th,
and indicate which piece you will play. Performers will be chosen on Jan. 5
from those who have applied. We'll end by playing some of Matthew Locke's wonderful duets, with Martha on one part and you on the other.
Solo pieces of Hume should be chosen from the music also available in staff
notation, so that as many people as possible can follow along in class,
looking either at tablature or at conventional notation. Many of Hume's
pieces are on imslp.org in Philipp Serna's wonderful and thoughtful
transcriptions: Life, Death, A Question, An Answer, Love's Farewell, and
many others. (Transcriptions of Touch Me Lightly and other pieces are also
available in The Jacobean Consort Book.)
After a general introduction to Hume's life and works, Martha will use one
of his simpler pieces, I am Falling, to demonstrate basic techniques and
tricks to make the chords sound easier and the melody clear. She will also
talk about making decisions to bring out the structure of the piece, and
show a few examples of when Hume's notation can be respectfully overridden.
While you do not need to be able to read tablature to participate in this
class, if you would like to learn this valuable skill, see the VdGSA
website: https://vdgsa.org/cgi-bin/teaching_videos/tv.cgi then scroll down
to Martha Bishop's succinct and excellent introduction to tablature.
Open to: upper intermediate to advanced viol players.
Pitch: A=415. Tuning: Standard bass viol tuning.
Join us for AEM ONLINE classes each weekend! Register for any number of sessions – classes are $25 per session and are offered using the Zoom meeting app, or your web browser. Music for the classes is available in advance. You will receive an email with links to webpages for each class after you register, there is no need to create a log in, or an AEM account. New to Zoom? We host a help-session tutorial each Friday at 4:00 ET, sign up info is included with registration. We hope you'll join us!