AEM ONLINE – Playing the Dots with Alison Crum, viol
November 7 @ 1:00 pm

-

2:30 pm

EST

$25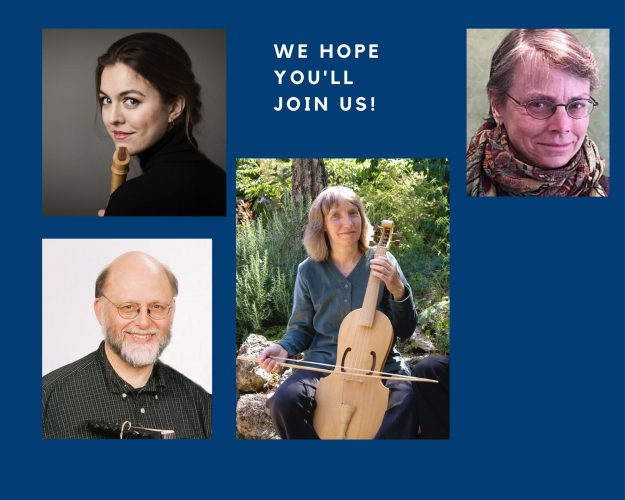 Almost every piece of viol consort music includes dotted notes, in many different contexts, and at all sort of speeds. Having a viol bow in your hand makes the playing of dotted notes much harder than one might think!
This workshop is all about how to play dotted notes, depending on the musical situation and style. We will look at several short extracts drawn from the standard English consort repertoire, including some early pieces by Mundy, Gibbons, Byrd, Ferrabosco I and Tye, and then some later examples of music by Ward, Jenkins and Purcell. For some examples we will all play in unison (or octaves), and music will be provided in three clefs. For others you will be able to choose whichever line(s) of the score suits your instrument, and we will discuss the bowing needs of each part. I will be concentrating entirely on the bowing, with very little reference to fingering, except where that might affect the musical result. For anyone who finds the notes too hard, especially in the faster examples, it will always be fine to practice bowing the rhythm on a single note. Geared to: intermediate to advanced viols. Pitch: A=415.
Join AEM ONLINE for new classes in September! Register for any number of sessions – classes are $25 per session. Music for the classes is posted in advance. Recordings of the class are available to participants for 7 days.
The EMA Member Concerts & Events Calendar is for time-sensitive events, such as in-person concerts, livestreaming performances or video premieres, and live online events such as webinars. Videos available on-demand (temporarily or permanently) should not be submitted as multi-day events. Please submit Early Music News & Press Releases about these or other activities.
Highlights from this calendar are included in the weekly E-Notes email newsletter (Tuesdays). Selections are made based on variety of event types and geographic regions.
EMA does not share non-EMA events on our social media platforms.