The EMA Member Concerts & Events Calendar is for live, time-sensitive events, such as in-person concerts, livestreaming performances/premieres, and live online events such as webinars.You are also welcome to submit Early Music News & Press Releases about these or other activities.
AEM ONLINE – The Quest for Freedom: Solo Music for Recorder with Matthias Maute, recorder
October 10 @ 1:00 pm

-

2:30 pm

EDT

$25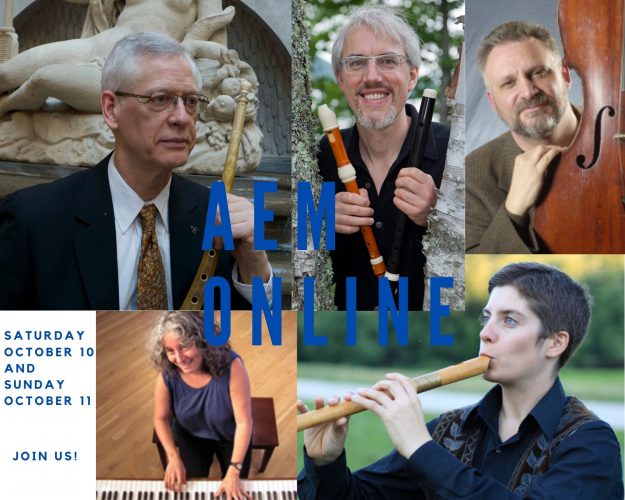 The beauty of the solo repertoire for the recorder lies in the musical freedom the player can explore. What might feel like solitude to some turns out to be a kingdom of liberty for others. In this class we get a peek into what it means to be bound by musical parameters on the one hand while pursuing the quest for freedom on the other. Exercises and play-along moments will provide the opportunity to try musical techniques that help us keep our sense of orientation in the endless sea of possibilities. While both the Maute and the Duke of Norfolk are written for more than one instrument, they also work very well as solo pieces. See AEM's website for the more information on music for the class, and how to participate.
Join us for AEM ONLINE classes each weekend! Register for any number of sessions – classes are $25 per session. After you register, you will receive an email with a link to a webpage for each class, where you can access music and any other class materials, along with the Zoom session link. Class sessions run 90 minutes, with 15 minutes for introductions and last minute tech help, and 75 minutes of class time. Class sessions are offered using the Zoom meeting app, or your web browser. Registration opens on Monday, for weekend classes.
Geared to: upper intermediate to advanced recorders, and auditors at all levels. Pitch: A=440.