The EMA Member Concerts & Events Calendar is for live, time-sensitive events, such as in-person concerts, livestreaming performances/premieres, and live online events such as webinars.You are also welcome to submit Early Music News & Press Releases about these or other activities.
AEM ONLINE – Unlocking the Secrets of Playing Fantastic English Country Dance Music with Emily O'Brien, recorder, and Karen Axelrod, piano
October 11 @ 1:00 pm

-

2:30 pm

EDT

$25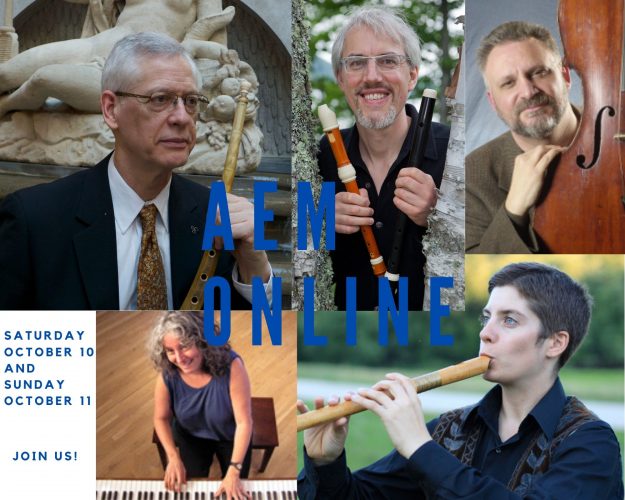 English Country Dance tunes are beautiful. They are fun to play.  There is so much variety in the repertoire, and so much we can do with the tunes. But how do you know where to start? When to ornament, how to harmonize and accompany the melody, whether you're playing a melody instrument or a keyboard?
In this workshop, we'll talk about how to improvise your own arrangements, whether you play a melody or chordal instrument; how to fit together with your bandmates; and what the dancers need from the band and how to make that happen. These skills are also applicable to lots of other types of music, from Baroque ornamentation to creating varied textures in madrigals to achieving the right feel in a Renaissance dance, so come join in even if ECD isn't your thing! You'll have a chance to try out various things and play along with us, all from the privacy of your own home, on whatever instrument(s) you have handy.  Open to: all instrumentalists. Pitch: A=440.
Join us for AEM ONLINE classes each weekend! Register for any number of sessions – classes are $25 per session. After you register, you will receive an email with a link to a webpage for each class, where you can access music and any other class materials, along with the Zoom session link. Class sessions run 90 minutes, with 15 minutes for introductions and last minute tech help, and 75 minutes of class time. Class sessions are offered using the Zoom meeting app, or your web browser. Registration opens on Monday for weekend classes.