AfroBaroque Music & Latin America
October 2 @ 2:00 pm

-

4:00 pm

EDT

Free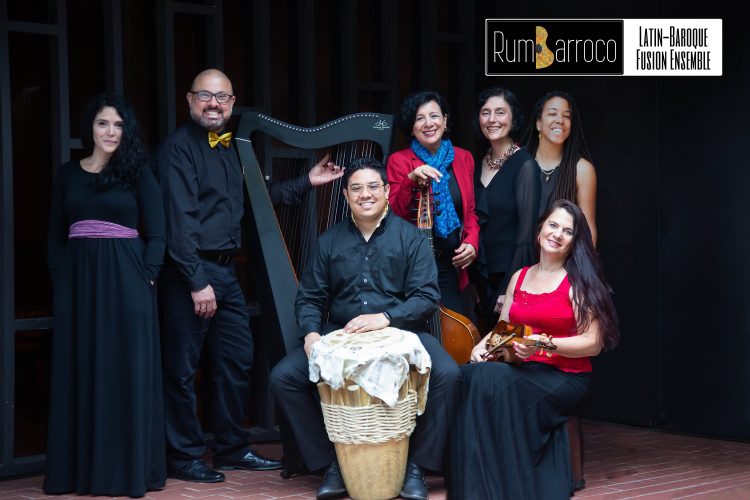 The mission of La Donna Musicale's branch organization, RUMBARROCO, is to recreate, preserve, and popularize the vital rhythms and harmonies of the past that traveled from the Iberian Peninsula to Latin America and vice versa.
Rumbarroco's Latin-Baroque Fusion ensemble uses period, folk, and contemporary popular instruments and performance practices. Rumbarroco explores the musical and cultural similarities and distinctions among Europeans, Africans, and Amerindians as experienced through Latin-American music, in order to unite today's diverse communities, empower youth, and raise funds for humanitarian projects in Latin America.
AfroBaroque Music & Latin America
 In celebration of Hispanic Heritage, we will illustrate the intersection of early European music with the aural African and Amerindian traditions and the resulting link with current Latin-American genres, the African diaspora in Latin America and its lasting musical legacy in Ibero-American music, and the fusion of art music or "learned" music with folk and popular forms.
Using musical texts from the 17th and 18th century such us the Trujillo Codex and guitar treatises by Santiago de Murcia and Gaspar Sanz, we present the European, Amerindian, and African traditions that have survived in scores, recreating them through current performance practices of Afro-Latin music traditions in Bolivia, Peru, Mexico, Puerto Rico, and Venezuela. We tap into our collective musical memory to blend past and present, connecting current Afro-Latin dances such as the Hatajo de Negritos, Joropo, Saya, and Plena with African-influenced dances such as the Cumbe, early Zarabanda, and Zarambeque in performances informed by both history and folklore.
Also in the program: Early vocal music from Spain and Mexico, with texts from the Iberian Cancioneros that depict black women in endearing terms and connected Latin American dances and instrumental improvisations.
Performers
Adriana Ruiz & Daniela Tosic, voice
Lisa Brooke, Baroque violin
Eduardo Betancourt, Venezuelan harp
Kera Washington & Ricardo Matute, percussion
Roberto Perez, Oraa, Bandola & percussion
Laury Gutiérrez, viola da gamba & Renaissance guitar
For more information please visit www.bowdoin.edu/music/events and www.rumbarroco.org
The EMA Member Concerts & Events Calendar is for time-sensitive events, such as in-person concerts, livestreaming performances or video premieres, and live online events such as webinars. Videos available on-demand (temporarily or permanently) should not be submitted as multi-day events. Please submit Early Music News & Press Releases about these or other activities.
Highlights from this calendar are included in the weekly E-Notes email newsletter (Tuesdays). Selections are made based on variety of event types and geographic regions.
EMA does not share non-EMA events on our social media platforms.