The EMA Member Concerts & Events Calendar is for live, time-sensitive events, such as in-person concerts, livestreaming performances/premieres, and live online events such as webinars.You are also welcome to submit Early Music News & Press Releases about these or other activities.
Virtual Events
Alta capella Online Boot Camp
October 31

-

November 1

Virtual Events

$160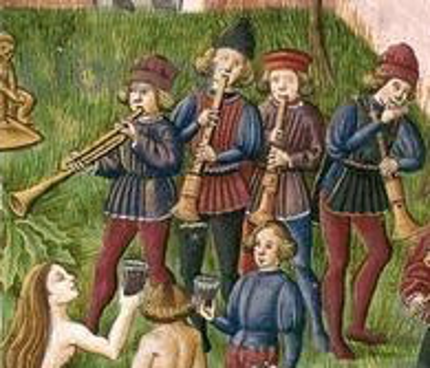 The Indiana Early Double Reed Workshop (with Bob Wiemken and Joan Kimball)
and Indiana Sackbut Workshop (with Adam Bregman) present:
Alta capella Online Boot Camp
A Two-Day Extravaganza to Whip Your Chops Back into Shape!
Saturday, October 31 – Sunday, November 1
Main Topics:
Technique: Back to basics
Mensuration/proportion, solmization, mode
Cantus, contra, tenor, si placet: Getting to know the idiosyncrasies of each voice, if you please!
This year has certainly been one like no other in recent history and, although many of us have not been able to get in as much playing as we may have liked, isn't it high time to dust off our lips and horns, and get back on the alta train?! This fall, we've decided to present a two-day, intensive alta capella boot camp in an online format, where we'll hone our basic technique on our instruments, all the while applying and expanding our knowledge of fifteenth- and sixteenth-century performance practices. The schedule will be as follows:
12-2 PM ET, Opening Session (incl. Q&A): Group warm-up followed by a presentation of selected main topics (mensuration/proportion, solmization, mode) for all participants. This session will alternate between a presentation of topic ideas and playing through exercises and compositions that put the ideas into practice.
3-4 / 4:45-5:45 / 6:30-7:30, Smaller Group Sessions (breakout rooms): Each group will focus on one voice type: cantus, tenor, contratenor (on Sunday, we'll add si placet parts to the mix), where groups will move from room to room each hour. In addition to the main topics, this time would be devoted to notation reading from a single part, learning how to understand the structure of a composition by spotting cadential procedure particular to that voice and making performance decisions pertaining to musica ficta.
7:45-…, Happy Hour, si placet
As always, facsimile pages and modern editions will be provided for all of the music, which will be electronically distributed beforehand.
NB: A working knowledge and understanding of musica practica topics and skills (solmization, hexachords, musica ficta, modes) will be beneficial as the classes will assume that everyone is familiar with rudimentary terms and practical ideas.
Please direct any questions to Juan Carlos Arango at earlymusicinmotion@gmail.com, Adam Bregman at adam.bregman@gmail.com, or Bob Wiemken at bob@piffaro.com.