On-demand or non-time-sensitive performances should be submitted to the Online Performances.
Due to the COVID-19 pandemic, many of the festivals and workshops listed in calendar have been or may be canceled. Please use the contact information below for details.
Amherst Early Music Festival ONLINE – WEDNESDAY, JULY 8
July 8 @ 1:00 pm

-

4:30 pm

EDT

$25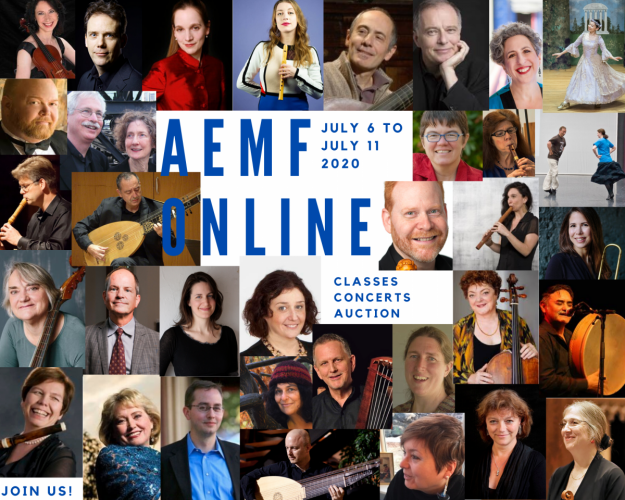 Join us for Amherst Early Music Festival ONLINE from July 6, to July 11!
Choose from 30 wonderful classes, and join us for 7 amazing Concerts with Conversation, and a short, fun-filled auction!
Wednesday Class Schedule:
1:00 p.m. – 2:30 p.m. Eastern Time
Pestilential Wind Playing in Periods of Plague, with Liza Malamut
Mistress and Governess of Human Emotions, with Rosamund Morley, viol
Bach's Mass in B Minor: A Study of the Variety and Articulations of Bach's Splendid Choruses with Kent Tritle
3:00 p.m. = 4:30 p.m. Eastern Time
Pardon Me, I Have to Estampie with Nina Stern
Beyond the Usual Telemann Duets: A Survey of the Later Duos from 1752 & After, with Deborah Booth
Our Bodies/Our Selves/Our World with Drew Minter
5:00 p.m.
The Amherst Early Music Auction!
Classes are $25 each, or 10 for $200, Concerts and Conversations and the Auction are free for everyone!