On-demand or non-time-sensitive performances should be submitted to the Online Performances.
Due to the COVID-19 pandemic, many of the festivals and workshops listed in calendar have been or may be canceled. Please use the contact information below for details.
At Beethoven's Hearth: A 250th Birthday Celebration
May 23 @ 7:30 pm

-

8:30 pm

CDT

Free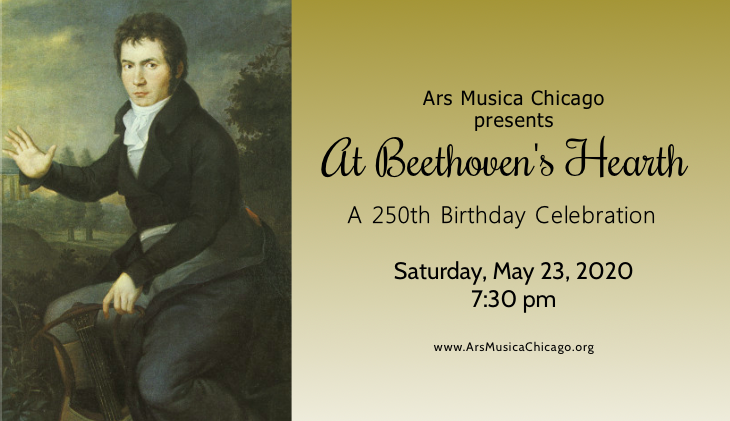 Our upcoming concert marking Ludwig van Beethoven's 250th birthday has been canceled due to COVID-19, but two of our performers will present a 'virtual' concert from their living room, featuring some of the music to be heard on our original program.
We are happy to join musicians around the globe in commemorating this momentous 'Beethoven Year' with a period instrument performance of the seminal song cycle, "An die ferne Geliebte", featuring celebrated soprano Hannah De Priest and fortepianist Michael Pecak. The program will also include Beethoven's transcendent "Moonlight" Sonata, Op. 27 No. 2, as well as his "Abendlied unter'm gestirnten Himmel" WoO 150. Dr. Elinor Olin, a member of the Music History Faculty at Northern Illinois University, will give a brief talk about the repertoire immediately preceding the program.
Please join us on at www.Facebook.com/ArsMusicaChicago for this special 'Facebook Premiere' event on Saturday, May 23, 2020 at 7:30 pm, and help us wish Beethoven a happy 250th! Admission is FREE, but we invite you to make a tax-deductible donation during or after our virtual concert. 100% of the proceeds will go to our performers.
Performers:
Hannah De Priest, soprano
Michael Pecak, fortepiano
Cover image: Detail of Joseph Willibrord Mähler, Untitled portrait of Beethoven (1804-5)