The EMA Member Concerts & Events Calendar is for live, time-sensitive events, such as in-person concerts, livestreaming performances/premieres, and live online events such as webinars.You are also welcome to submit Early Music News & Press Releases about these or other activities.
Highlights from this calendar are included in the weekly E-Notes email newsletter (Tuesdays). Selections are made based on variety of event types and geographic regions.
EMA does not share non-EMA events on our social media platforms.
Virtual Events
Black Musicians in Early Music: A Panel Discussion
February 21 @ 2:00 pm

-

3:00 pm

EST

Virtual Events
Early Music America and The Handel + Haydn Society present a Black History Month conversation with leading Black musicians in the field of early music and historical performance practice. Presented in conjunction with the Well-Tempered Musician wellness series.
The conversation will be livestreamed on EMA's Facebook, YouTube, and Twitter accounts and viewable as an embedded video on this Event page as well.
Panelists: Joseph McHardy, Reginald Mobley, Patricia Ann Neely, Rachel Redmond, and Jonathan Woody
Moderator: Dana Whiteside
Bios
Born in Scotland to Congolese and English parents, Joseph McHardy moved to London to study at the Royal Academy of Music, having graduated from the University of Edinburgh.
At the Royal Academy of Music, his teachers included Laurence Cummings, Terence Charlston and Carole Cerasi. On graduating from there with distinction, a last-minute vacancy on a production of Handel's Alcina at the Komische Oper, Berlin, led Joseph to a decade of involvement with opera as a keyboard player and conductor, working with companies such as English National Opera, Glyndebourne, Teatro Real (Madrid), Garsington Opera and English Touring Opera.
As a continuo harpsichordist and organist, he appears on several award-winning recordings, and has performed with Chineke!, La Nuova Musica, Gabrieli, La Serenissima, Royal Philharmonic, Berlin Philharmonic and Royal Scottish National Orchestra, amongst others.
Prior to his appointment to HM Chapel Royal, he was Organist of Christ Church, Chelsea, where he played a leading role in the rebuilding of its historic organ by Flentrop Orgelbouw. He is currently involved in editing Vicente Lusitano's 1555 collection of motets, which represents the earliest known music published in Europe by a person of African descent, and he has recently released the recording Pelham Humfrey: Sacred Choral Music with the choir of the Chapel Royal on Delphian.
---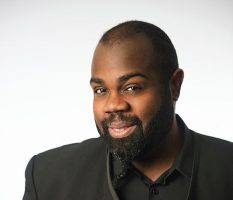 Particularly noted for his "shimmering voice, a voice which also allows lucid and pure levels" (BachTrack), countertenor Reginald Mobley is highly sought after for baroque, classical and modern repertoire.
Reginald leads a very prolific career in the United States, where he resides. In March 2020, he became the first ever programming consultant for the Handel and Haydn Society following several years of leading H+H in his community engaging Every Voice concerts. He is a regular guest with Cantata Collective, Musica Angelica, Agave Baroque, Charlotte Bach Akademie, Seraphic Fire, Quodlibet, Pacific Music Works, Bach Collegium San Diego, San Francisco Early Music Society, Philharmonia Baroque Orchestra….  Recent engagements have included concerts and recordings with organisations such as Opera Lafayette, Miller Theatre (Columbia University), Blue Heron in Boston, Chatham baroque in Pittsburgh, Washington Bach Consort. Most of the recordings are available online.
In Europe, his career is expanding; in the UK, he has toured with the Monteverdi Choir and English Baroque Soloists for the last five years, and continues to do so, and has performed with the Royal Scottish National Orchestra, Academy of Ancient Music and was due to make his debut with the City of Birmingham Symphony Orchestra in June 2022.  He was also invited to perform with the OH! (Orkiestra Historycsna) in Poland and the Vienna Academy in Austria (Musikverein), gave a recital (with a Spiritual programme) at the Musée d'Orsay in Paris, toured with the Freiburger Barockorchester under Kristian Bezuidenhout, Balthasar Neumann Chor & Ensemble and the Bach Society in Stuttgart.
In the autumn 2021, he will perform the role of Ottone in L'incoronazione di Poppea with the Budapest Festival Orchestra for a series of concerts in Europe, and has been invited to sing Messiah with the Chicago Symphony Orchestra in December 2021.  Reginald is expecting to be touring Australia in April 2022 together with Bach Akademie Australia.
His recordings have been received with critical acclaim, including several Grammy nominations, most recently for his work on A Lad's Love with Brian Giebler on BRIDGE 9542 label, which has been nominated for a Grammy Award for Best Classical Solo Vocal Album. He has also been featured on several albums with the Monteverdi Choir and Sir John Eliot Gardiner, including a recording of Bach's St Matthew Passion and Magnificat. His own projects include Peace In Our Time on Vgo Recordings label with frequent collaborators, Agave Baroque. He also looks forward to the release of American Originals with Agave Baroque, which celebrates the music of composers of colour.
---
Patricia Ann Neely (viola da gamba, vielle) has appeared with many early music ensembles including, the Folger Consort, Smithsonian Chamber Players and Viol Consort, the New York Collegium, the Washington Bach Consort, Amor Artis, ARTEK, Glimmerglass Opera, New York City Opera, the Boston Camerata, Boston Early Music Festival Orchestra, The Newberry Consort, The New York Consort of Viols, The Waverly Consort and Early Music New York, among others, and was a founding member of the viol consort Parthenia. She is the Managing Director of Abendmusik, New York's Period Instrument String Ensemble. For many years she was the principal violone player for Bach Vespers at Holy Trinity. She spent three years touring with the acclaimed European-based medieval ensemble, Sequentia as the vielle player performing throughout Europe and North America, at festivals including, Oude Muziek – Utrecht, Bach Tage – Berlin, Alte Musik – Herne, Wratislavia Cantans – Poland, Music Before 1800, and The Vancouver Early Music Festival. Ms. Neely began playing the viol at Vassar College and continued her studies, earning an MFA in Historical Performance at Sarah Lawrence College, with additional studies in Belgium with Wieland Kuijken. She has recorded for Arabesque, Allegro, Musical Heritage, Deutsche Harmonia Mundi, Ex Cathedra, Classic Masters, Erato, Lyrichord, and Music Masters labels. Ms. Neely in on the Board of the Viola da Gamba Society of America and has taught at its Conclaves. She has also taught at Pinewoods and VdGSA weekend workshops. Ms. Neely was the Executive Director of the Connecticut Early Music Society and Festival from 2012 until 2015. She is currently the Chair of the Early Music America Taskforce on Equity, Diversity, and Inclusion. The mission of the task force is to address the lack of diversity in the field and explore ways in which to increase outreach to a wider demographic.
---
Described as an "impressively silken soprano" (The Times) and "resplendent" (The New York Times) Rachel Redmond began her career with the prestigious Jardin des Voix, performing with Les Arts Florissants under the direction of William Christie and Paul Agnew in France, Spain and New York. At William Christie's invitation she made her début at the Opera Comique as Iris in Lully's Atys, and performed Irene, Léontine and Flore in Robert Carsen's production of Les Fetes Venitiennes at the Opera Comique, The Théâtre du Capitole de Toulouse and Brooklyn Academy of Music. She subsequently made her début at the Théâtre du Châtelet as Loena in La belle Hélène.
With William Christie and Les Arts Florissants Rachel Redmond has also performed Belinda Dido and Aeneas (USA tour), Damon Acis and Galatea, Caecilia in Charpentier's Caecilia, Virgin and Martyr, Artebuse in Charpentier's Actéon, Monteverdi Madrigals, Bach Cantatas, Grands Motets by Rameau and Mondonville, and works by Purcell and Boismortier at William Christie's inaugural Festival at Thiré, Angel Jephtha (European tour) and Captif in Charpentier's David et Jonathas (Aix-en-Provence and Edinburgh International Festivals).
Rachel Redmond's other concert performances have included Messiah and Purcell's Fairy Queen with Jordi Savall and the Centre Internacional de Música Antiga, works by Handel, Jomelli, Galuppi, Vivaldi and Pergolesi with Collegio Ghislieri, L'Amour, Une Bergère, Climène and Une Nymphe in Mondonville's Isbé for the Centre de Musique Baroque de Versailles, Charpentier's La Descente d'Orphée aux Enfers with Ensemble Correspondences, Bach's St John Passion with Ensemble Aedes, and Angel Israel in Egypt with Les Cris de Paris at the Beaune, Lessay and La Chaise-Dieu Festivals.
Her considerable concert repertoire also includes Charpentier Te Deum, Handel Esther and Saul, Bach St Matthew Passion and Cantata 199, Graupner Diese Zeit ist ein Spiel der Eitelkeit, Handel Deutsche Arien, Brahms Requiem, Bernstein Chichester Psalms, Karl Jenkins Gloria, Beethoven Mass in C, and Orff Carmina Burana. She has performed as a soloist with the European Union Baroque Orchestra, Norwegian Chamber Orchestra, Royal Liverpool Philharmonic Orchestra, BBC Scottish Symphony Orchestra, Dunedin Consort, Glasgow Chamber Orchestra, and in Aldeburgh, at the 'Se' in Lisbon, London's Wigmore Hall and the Auditorio Manuel de Falla in Granada.
Highlights this season for Rachel Redmond are her début in the role of Susanna The Marriage of Figaro for English Touring Opera, returns to the Aix-en-Provence Festival as Second Woman Dido and Aeneas and further concert performances with Jordi Savall, Les Arts Florissants, Dunedin Consort, Marsyas Ensemble and Ensemble Caravanserail.
Rachel Redmond was born in Glasgow and sang in the Junior Chorus of the Royal Scottish National Orchestra before studying at the Music School of Douglas Academy, the Royal Conservatoire of Scotland (RCS), and the Guildhall School of Music and Drama. She was awarded the Florence Veitch Ibler prize at the RCS for oratorio performance.
---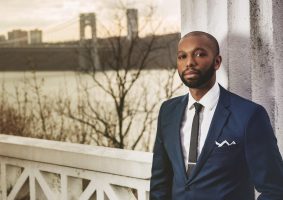 Moderator
Baritone Dana Whiteside has appeared as soloist in numerous oratorio and orchestral performance, including the Boston premiere of Kurt Weill's "The Prophets" from The Eternal Road, Bach's "Saint John Passion" and "Mass in B Minor," as well as the Boston premiere of John Harbison's "Supper at Emaus" with the Cantata Singers. In addition he has appeared as soloist in Brahms' "Ein Deutsches Requiem," Bach's "Christ lag in Todesbanden," Handel's "Alexander's Feast," Beethoven's Ninth Symphony and Mass in C, Carl Orff's "Carmina Burana," Benjamin Britten's "Cantata Misericordium," as well as Stravinsky's "Pulcinella," and Bach's Christmas Oratorio and Cantata 82 ("Ich habe genug"). Roles in works for concert/stage have included Time in the Boston premiere of John Harbison's "Winter's Tale" with the Boston Modern Orchestra Project; and, with Emmanuel Music, the role of Carl Magus in Stephen Sondheim's "A Little Night Music."
An avid recitalist, Mr. Whiteside has offered a wide range of programs. He has appeared with Musicians of the Old Post Road as well as at Boston's French Library/Société Française and also with the Florestan Recital Project. He has performed at University of Oregon and Boston University in such offerings as Schumann's Liederkreis, op. 39, Samuel Barber's Despite & Still, Beethoven's "An die ferne Geliebte," John Musto's "Shadow of the Blues: Songs to Texts of Langston Hughes," Ernest Chausson's Serres Chaudes, and Aaron Copland's "Songs on Texts of Emily Dickinson." Recent recitals have featured programs on themes of French Cabaret, the works of William Shakespeare, and songs inspired by the beauty of Venice.
Among the highlights of last season were his role as baritone soloist with in Handel's "Messiah" with Worcester Music and as Apollo in Emmanuel Music's presentation of "Apollo and Daphne" at Rockport Music Festival as well as Claudio Monteverdi's "Vespers of 1610" with Boston Baroque, and the role of Jesus in Bach's "Saint John Passion" with Emmanuel Music, and in the Bach Festival at University of Massachusetts at Amherst. Upcoming solo appearances for 2015-2016 include "The Magic Flute" with Boston Baroque; Kurt Weill's "Seven Deadly Sins"; the role of Phoebus in Bach's "The Contest Between Phoebus and Pan" with Emmanuel Music; "Carmina Burana" with the Worcester Chorus at Mechanics Hall; the Verdi Requiem with Nashoba Valley Chorale Society; the role of Elijah in the Boston premiere of "Elijah's Angel"; an