Add Your Event
View, Edit, or Delete Your Events
The EMA Member Concerts & Events Calendar is for 
time-sensitive events
, such as 
in-person concerts, livestreaming performances or video premieres, and live online events such as webinars. Events hosted by organizations/ensembles should be posted from an EMA Organization Member account. Videos available on-demand (temporarily or permanently) should not be submitted as multi-day events. Please submit Early Music News & Press Releases about these or other activities.
BLEMF 2023: Early Music Crossroads
May 21 @ 8:00 pm

-

May 28 @ 4:00 pm

EDT

Free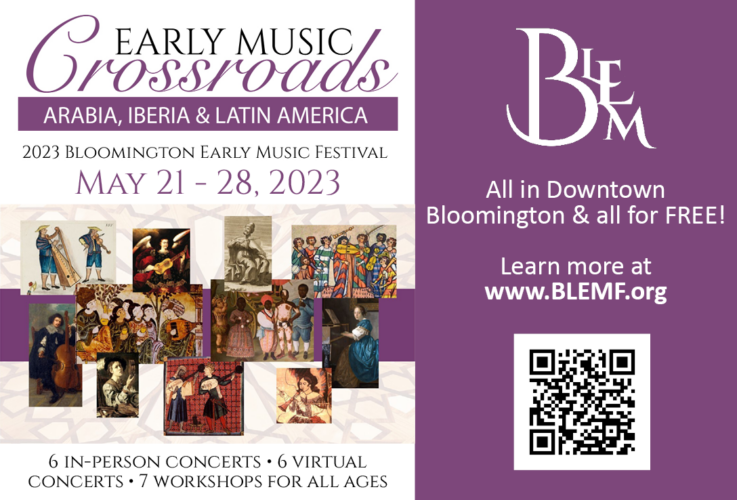 BLEMF 2023: Early Music Crossroads maps musical connections across Arabic regions, the Iberian Peninsula, and the Americas during the early music period, revealing deeply complex cultural relationships that emerged from centuries of conquests, occupations, and colonialization. Musicians long stood at these intersections, both in times of peace and of great conflict and oppression. Their music influenced cultural exchange among communities and individuals, putting forward their own distinctive traditions or absorbing and adapting elements of the traditions they encountered. The result was a musical world resonant with social, political, and cultural history over the course of a near-millennium.
In few places was the mix of cultures more profound or the reverberations more far-reaching than Al-Andalus during seven centuries of Arab Muslim rule, and the so-called "New World" over the next four centuries of Spanish imperialism. That such history produced art of great and lasting beauty is a complicated paradox, yet it is also a valuable opportunity for us today. It is through this art—the glorious and inspiring music of Muslims, Jews, Christians, and indigenous peoples of the Americas—that we invite you to hear and better understand the past.
BLEMF Events are FREE & OPEN TO ALL. This year's line up includes 6 live concerts, 6 virtual concerts, and 7 workshops for all ages. Learn more at www.BLEMF.org!
Highlights from this calendar are included in the weekly E-Notes email newsletter (Tuesdays). Selections are made based on variety of event types and geographic regions.
EMA does not share non-EMA events on our social media platforms.