EMA members can add their events to the calendar through the "Events" section their membership account accessed at the top righthand corner of this page.
Boston Bach International Organ Competition
September 2, 2018

-

September 9, 2018

$10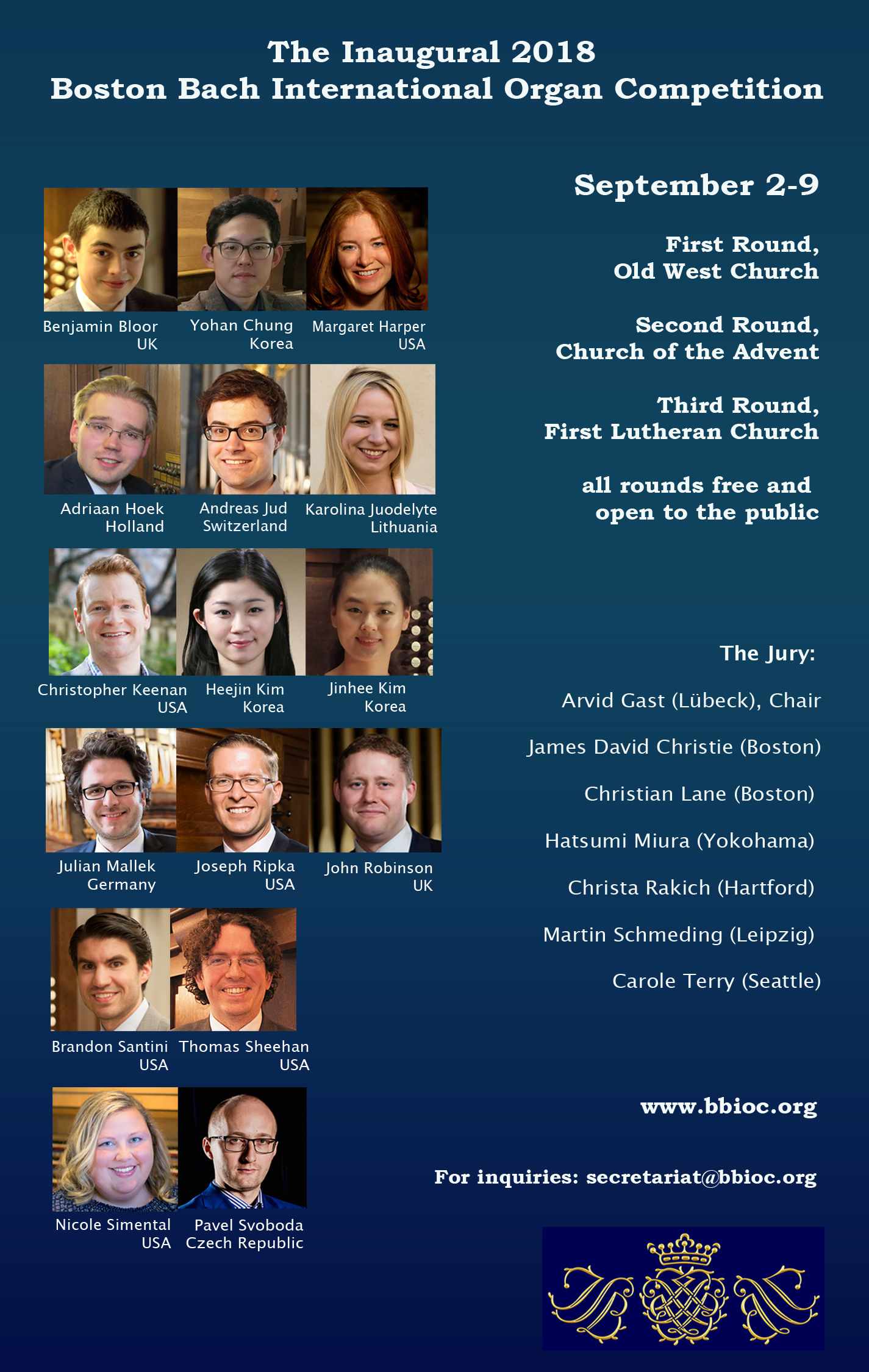 The inaugural Boston Bach International Organ Competition takes place September 2-9 and is open to emerging artists of any nationality who have completed their schooling and are between the ages of 26 and 37. Sixteen contestants will arrive during the last week of August to prepare for the three rounds of the competition. The BBIOC is quadrennial like its Leipzig counterpart, and is intended to
promote further artistic development of players already engaged in professional careers,
increase the general public's awareness of the breadth and scope of Bach's organ music; and
showcase Boston as a leading center of historically informed organ building and performance practice, and home to many internationally prominent organists.
The jury consists of Arvid Gast (Lübeck), Chair; James David Christie (Boston-Oberlin), Christian Lane (Boston-McGill), Hatsumi Miura (Yokohama-Ferris), Christa Rakich (Hartford), Martin Schmeding (Leipzig), and Carole Terry (Seattle). Competition rounds take place in order at Old West Church, Church of the Advent, and First Lutheran Church. Jury concerts will be held in order at First Lutheran Church, King's Chapel, Harvard Memorial Church, Trinity Church, and the Church of the Advent. Arvid Gast plays a Sunday afternoon concert out in Worcester at St. Joseph's Chapel, Holy Cross College, and a winners' concert will cap the week at First Lutheran later that evening.