Dinner with Handel
February 10, 2024 @ 7:30 pm

-

9:30 pm

EST

$36 – $71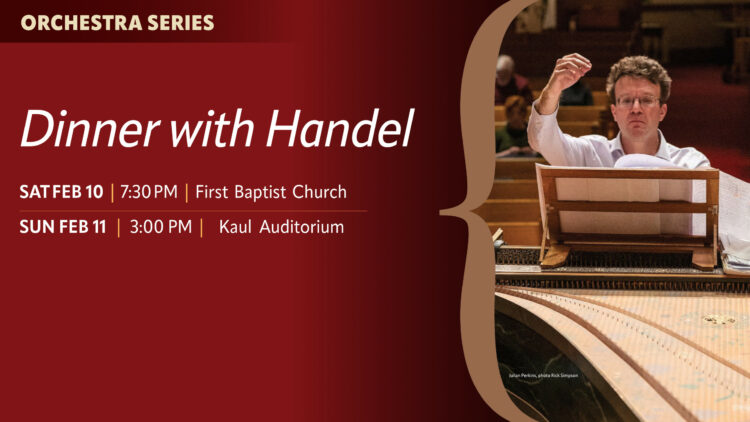 The US premiere of a newly-revised opera pasticcio by Stephen Pettitt (librettist) and Julian Perkins (musical arrangements and recitatives).
A reimagined delicacy that dares to ask, ''What would dinner with Handel really be like?'' Set in Handel's London home, this chamber opera revolves around an uncomfortably intimate surprise dinner party thrown by Handel's cook, the singer Gustavus Waltz. We imagine conversations and confrontations between Handel, rival composer Johann Christoph Pepusch, spurned diva Francesca Cuzzoni, and Handel's dearest friend, Mary Pendarves. Music by Handel, Vivaldi, Purcell, Arne, and Pepusch is sensitively and wittily re-texted (in English) by esteemed journalist Stephen Pettitt, with recitatives newly composed by Julian Perkins. Fast-moving, funny, and touching, this 90-minute romp explores Handel's complex personality through carefully researched and often telling references to real events. Join us for an operatic feast that serves selections of both Handel the genius, and the fallible human being, in an unusual and fascinating light.
The EMA Member Concerts & Events Calendar is for time-sensitive events, such as in-person concerts, livestreaming performances or video premieres, and live online events such as webinars. Events hosted by organizations/ensembles should be posted from an EMA Organization Member account. Videos available on-demand (temporarily or permanently) should not be submitted as multi-day events. Please submit Early Music News & Press Releases about these or other activities.
Highlights from this calendar are included in the weekly E-Notes email newsletter (Tuesdays). Selections are made based on variety of event types and geographic regions.
EMA does not share non-EMA events on our social media platforms.