Add Your Event
View, Edit, or Delete Your Events
The EMA Member Concerts & Events Calendar is for 
time-sensitive events
, such as 
in-person concerts, livestreaming performances or video premieres, and live online events such as webinars. Events hosted by organizations/ensembles should be posted from an EMA Organization Member account. Videos available on-demand (temporarily or permanently) should not be submitted as multi-day events. Please submit Early Music News & Press Releases about these or other activities.
Early Music Missouri presents "Concerto delle donne: Songs for Three Ladies"
May 7 @ 3:00 pm

-

5:00 pm

CDT

$10 – $20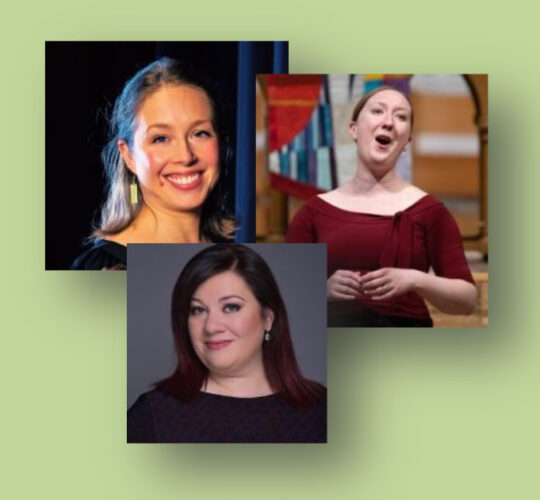 Early Music Missouri presents "Concerto delle donne: Songs for Three Ladies," a concert of early 17th-century virtuosic vocal work for three female voices. Drawing on the late 16th-century model of the Duke of Ferrara's "musica secreta" and its famous virtuosi singers, EMMo presents three of the region's finest singers in a program of exciting Italian trios, duets and solos. The concert features music by Luzzasco Luzzaschi, Barbara Strozzi, Claudio Monteverdi and others.
Established in the 1570s, Ferrara's female ensemble eventually served as model for courts throughout northern Italy and across the continent. Its most prominent members–Laura Peverara, Livia d'Arco and Anna Guarini–accompanied themselves while singing virtuosic madrigals and solos composed for them by Luzzaschi and others. The music features intricate counterpoint, challenging ornaments and cascades of running scales, all of which will be on display in this concert. Our program includes trios, duets and solos from the actual Este court in Ferrara by Luzzaschi as well as by his famous student, Claudio Monteverdi. Barbara Strozzi, the most famous female composer of the early 17th century, composed not only solos for herself but trios whose texts commented on role of the female artist of the era.
Our three – Arianna Aerie, Samantha Arten and Stephanie Ruggles – are highly visible and active vocalists in our region. Arianna and Samantha sing regularly with EMMo and we're pleased to welcome Stephanie to our series with this performance.
Since moving to St. Louis over a decade ago, Arianna Aerie (soprano) has established herself as one of the city's finest and most versatile singers. In addition to recent appearances with EMMo, she serves as a soloist and section leader at Saint Peter's Episcopal Church and has performed as a featured soloist with the Saint Louis Chamber Chorus, Bach Society of Saint Louis and Collegium Vocale of Saint Louis. Arianna's vocal versatility has earned her accolades as a performer of Early Music and opera, as well as in classical, musical theatre and jazz.
A regular on Early Music Missouri's concerts, Samantha Arten (soprano) has focused her performance activities in Early Music, singing primarily in liturgical church choirs and Baroque ensembles. She is currently a principal singer with the Bach Society of St. Louis and a staff singer at St. Peter's Episcopal Church. Her Early Music performances include concerts with the Raleigh Bach Soloists, the Duke Vespers Ensemble, the Byrd Festival Consort, Musicke's Cordes, St. Louis Baroque, Collegium Vocale St. Louis and the Southeast Baroque Ensemble. A music historian, Samantha holds the Ph.D. in musicology from Duke University (2018) and a B.Mus. in music history and literature from Washington University in St. Louis (2011). She serves as adjunct Music Faculty at a number of universities in the region.
Stephanie Ruggles (contralto) has performed with Union Avenue Opera, Washington University Opera, Collegium Vocale St. Louis and The St. Louis Chamber Chorus. She currently serves as assistant principal alto of the American Kantorei and performs in the Bach at the Sem concert series at Concordia Seminary. A St. Louis native, Stephanie holds a B.M.E from the University of Missouri-Saint Louis and a M.Mus. in Vocal Performance from Washington University and works as a music educator in the region.
The concert will take place at St. Peter's Episcopal Church in Ladue, MO on May 7, 2023 at 3:00 p.m. Admission to the concert is by a suggested donation of $20 per person.
The concert is open to the public. The venue features plenty of off-street parking and handicapped accessibility.
Highlights from this calendar are included in the weekly E-Notes email newsletter (Tuesdays). Selections are made based on variety of event types and geographic regions.
EMA does not share non-EMA events on our social media platforms.