Add Your Event
View, Edit, or Delete Your Events
The EMA Member Concerts & Events Calendar is for time-sensitive events, such as in-person concerts, livestreaming performances or video
premieres
, and live online events such as webinars.
Videos available on-demand (temporarily or permanently) should not be submitted as multi-day or recurring events.
Information about on-demand viewing periods are welcome as
community news and press releases
.
Early Music Missouri presents "Dances, Dolors & Declamation–Songs for Voice & Lute by Dowland & his Contemporaries"
October 23 @ 3:00 pm

-

5:00 pm

CDT

$10 – $20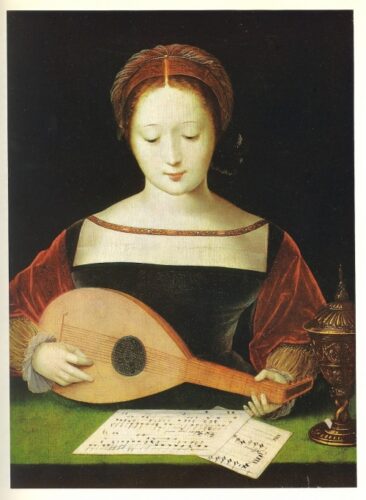 Early Music Missouri presents a program of lute and continuo songs in the initial concert of its new spin-off series, Early Music@MOCRA. Titled "Dances, Dolors & Declamation," the concert will feature lute songs and solos by John Dowland as well as continuo songs by early 17th-century Italian composers including Caccini, Strozzi & Monteverdi. Soprano Samantha Arten will be joined by lutenist Jeffrey Noonan at the Museum of Contemporary Religious Art on the campus of Saint Louis University. The program will take place in the main gallery of the museum on October 23 at 3:00 pm. Admission to the concert is by a suggested donation of $20 per person.
Perhaps the greatest English song composer prior to Henry Purcell, John Dowland served English nobility and continental royalty. He published four collections of songs and a significant collection of dances for viol consort and was a major contributor to a large and important anthology of solo lute music published by his son, Robert. Dowland composed numerous dances for solo lute and viol consort, turned his best-dances into songs and wrote numerous songs that reflected a contemporary fad for affective melancholy. And, over the course of many years on the continent, he heard the innovations of both French and Italian composers and incorporated some of these developments in his late song settings, some that reflect a familiarity with the new declamatory music promoted by the Florentine Camerata and others. Dowland's music seems an ideal way to access our themes of Dances, Dolors & Declamation.
With this concert, Early Music Missouri expands its reach, performing in the city's Midtown on the campus of Saint Louis University. The Museum of Contemporary Religious Art, located in a re-purposed chapel, has an acoustic ideal for plucked instruments like lutes and guitars. EMMo's 2022 – 2023 MOCRA concerts take advantage of this acoustic and feature music for early plucked instruments. These concerts are presented in cooperation with MOCRA as well St. Louis Classical Guitar.
Samantha Arten (soprano) has focused her performance activities in Early Music, singing primarily in liturgical church choirs and Baroque ensembles. Currently a principal singer with the Bach Society of St. Louis and a staff singer in the choir of St. Peter's Episcopal Church, she has performed as a soloist with the Raleigh Bach Soloists, the Duke Vespers Ensemble, the Byrd Festival Consort, Musicke's Cordes (with Jeff Noonan), St. Louis Baroque, Collegium Vocale St. Louis and the Southeast Baroque Ensemble. A founding member of Bull City and Concentus Carolina, Samantha also directed the Duke Collegium Musicum (2016). Her women's barbershop quartet, Ringtones, won their international competition (Harmony, Incorporated) in 2010. A music historian, Samantha holds the Ph.D. in musicology from Duke University (2018) and a B.Mus. in music history and literature from Washington University in St. Louis (2011). She teaches as a Lecturer in Musicology at Washington University in St. Louis, Southern Illinois University Edwardsville and Maryville University, and is a faculty affiliate with Saint Louis University's Center for Medieval and Renaissance Studies. Her research focuses on sixteenth-century English music printing in the context of Reformation theology and book history. Her work can be found in the Yale Journal of Music and Religion, Early Music, The Oxford Encyclopedia of the Bible and the Arts, and Reformation (forthcoming). She is co-editing Elizabethan and Jacobean Praises of Music with Katherine Butler, and completing her first monograph, Reading The Whole Booke of Psalmes.
Founder and Director of Early Music Missouri, Jeffrey Noonan (lute, Baroque guitar & theorbo) has played early plucked instruments across the Midwest for over forty years. Based in St. Louis, he has performed regionally with various ensembles including Shakespear's Bande, Early Music St. Louis, Bourbon Baroque (Louisville), Madison Early Music Festival (Wisconsin), Ars Antigua (Chicago), and Musik Ekklesia (Indianapolis.) In recent seasons, Jeff has appeared regularly with Baroque violinist Samuel Breene as the duo Musicke's Cordes. In addition, Jeff appeared with Such Sweete Melodie, a quintet specializing in seventeenth-century vocal repertoire and is a founding member of La petite brise, a trio featuring music for the Baroque flute. As accompanist and continuo player, Jeff performs a varied repertoire ranging from sixteenth-century chanson with solo voice to Handel's Messiah with the St. Louis Symphony. A scholar of the early guitar, Jeff has produced two books and articles for Grove on the subject as well as an edition of eighteenth-century violin sonatas by Giovanni Bononcini. Jeff has received funding and fellowships from the National Endowment for the Humanities and the Newberry Library. In 2016, the St. Louis Regional Arts Commission awarded him an Artist Fellowship in recognition of his work as a performer, teacher and scholar.
The concert is open to the public. The venue features plenty of off-street parking and handicapped accessibility.
The EMA Member Concerts & Events Calendar is for time-sensitive events, such as in-person concerts, livestreaming performances or video premieres, and live online events such as webinars. Videos available on-demand (temporarily or permanently) should not be submitted as multi-day events. Please submit Early Music News & Press Releases about these or other activities.
Highlights from this calendar are included in the weekly E-Notes email newsletter (Tuesdays). Selections are made based on variety of event types and geographic regions.
EMA does not share non-EMA events on our social media platforms.