Add Your Event
View, Edit, or Delete Your Events
The EMA Member Concerts & Events Calendar is for 
time-sensitive events
, such as 
in-person concerts, livestreaming performances or video premieres, and live online events such as webinars. Events hosted by organizations/ensembles should be posted from an EMA Organization Member account. Videos available on-demand (temporarily or permanently) should not be submitted as multi-day events. Please submit Early Music News & Press Releases about these or other activities.
East Central College presents Early Music Missouri's "Un tas de cordes: Chamber Music from the French Court"
September 29 @ 4:00 pm

-

5:00 pm

CDT

Free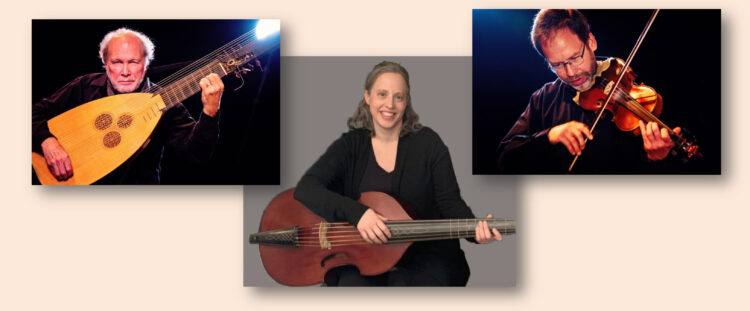 East Central College presents an afternoon recital by Early Music Missouri on September 29 in the College's Performing Arts Center. This program of French Baroque Chamber Music features the violin/theorbo duo Musicke's Cordes joined by gambist Sarah Biber.  The concert includes French sonatas, dances and character pieces and features composers Marin Marais, Antoine Forqueray, Jean-Féry Rebel and Georg Muffat. Music on the program includes Morel's "Chaconne en trio," Rebel's gorgeous "Sonata sixiéme," Muffat's sonata for solo violin and Marais's "Tombeau pour le Cadet Marias" and "Sonnerie de Ste. Geneviève du Mont de Paris."
The recital is part of East Central College's Matinee Series and takes place in the John Edson Anglin Performing Arts Center on the campus in Union MO. The performance is free and open to the public.
The program features a number of pieces that illustrate the uneasy musical relations between Italy and France in the 17th century. Italy's musical culture dominated Europe through the seventeenth century and French musicians and listeners simultaneously embraced and rejected the new musical styles emanating from Italy. Nonetheless, French musicians could not ignore Italian innovations, especially the compositional innovations of Arcangelo Corelli. This concert includes music by composers like Morel and Marais whose allegiance to French musical tastes held fast alongside works by Rebel, Forqueray and Muffat that show the influence of Corelli and his new ideas about the sonata.
Sarah Biber (viola da gamba) has played viol as well as Baroque and modern cellos across the United States, Australia, and China. Based in Colorado since 2015, she performs with orchestras and chamber ensembles throughout the mountain states. An active collaborator with artists in other disciplines, Sarah recently appeared with the Paul Taylor Dance Company playing Bach's solo cello suites for the company's first period instrument performance. Her Early Music activities include regular performances with the Baroque Orchestra of Colorado, Colorado Bach Ensemble, Colorado Chamber Players and her viol consort, Byrd on a Wire. Sarah studied cello at the Oberlin Conservatory with Peter Rejto followed by studies in Australia at the Sydney Conservatorium where she worked with Georg Pederson. In addition to her degree from Oberlin, Sarah holds the DMA in Cello Performance from the State University of New York at Stony Brook where she studied with the renowned cellist Colin Carr. In Australia, she performed in the Opera House with the Sydney Symphony and as a member of the Sydney Sinfonia, the training orchestra of the Symphony.
In 2023, the duo Musicke's Cordes celebrates ten years as a performing ensemble. In that decade, the pair have performed across the Midwest, high in the Rockies and along the Eastern seaboard on concert series, university campuses and community settings.  Musicke's Cordes has appeared many times at East Central College. Their programs embrace a wide swath of 17th-century instrumental music including fantastic Italian sonatas, elegant French suites and rustic English variations on popular tunes.
Samuel Breene (Baroque violin) is a scholar and performer whose activities and interests span the range of his instrument's history and repertoire. Following his conservatory degree, Sam pursued advanced violin studies in Mainz, Germany. In graduate school at Duke University, he specialized in baroque violin and led the Duke Collegium Musicum. Since then, Sam has maintained a performing career that balances work on both early and modern violins. He has performed across this country and made international appearances in Germany, Canada, Israel and Haiti. A member of the newly formed Providence Baroque Orchestra, Sam also played for a decade across New England with the Proteus String Quartet and has appeared regularly with modern orchestras, including the Rhode Island Civic Chorale and Orchestra, Rhode Island Philharmonic, Berkshire Symphony Orchestra, Albany Symphony Orchestra and the Orchestra of the Opera Company of North Carolina. Sam plays regularly across New England with Hope Collective for Early Music.
In addition to his performing work, Sam is a musicologist whose research focuses on Mozart's chamber music and performance practices of the Baroque and Classical eras. Sam has written about Mozart, science, and aesthetics in the eighteenth century for the journal Early Music and has published reviews for Early Music and the Journal of Musicological Research.
Sam holds a B.Mus. in violin performance from the Lawrence University Conservatory of Music and two degrees from Duke University, the M.M. in Performance Practice and the Ph.D. in Musicology. He has taught at New York University and the University of Pennsylvania. Sam currently serves as Professor of Music at Rhode Island College where he directs the Music History Program and leads the RIC Early Music Ensemble.
Founder and Director of Early Music Missouri, Jeffrey Noonan (theorbo & Baroque lute) has played early plucked instruments across the Midwest for over forty years. Based in St. Louis, he has performed regionally with various ensembles, performing repertoire ranging from sixteenth-century lute songs with solo voice to Handel's Messiah with the St. Louis Symphony. A scholar of the early guitar, Jeff has written two books and articles for Grove on the subject and published an edition of eighteenth-century violin sonatas by Giovanni Bononcini.
Jeff holds degrees from the University of Notre Dame (A.B.), the Hartt School of Music (B.Mus.) and Washington University in St. Louis (M.Mus., Ph.D.) He taught as adjunct faculty at St. Mary's College, Indiana/Purdue Universities in Fort Wayne, Andrews University and Washington University in St. Louis. He served as fulltime music faculty at Southeast Missouri State University where he taught upper-level music literature and history courses and directed the classical guitar program before retiring as a Professor of Music in 2015.
Highlights from this calendar are included in the weekly E-Notes email newsletter (Tuesdays). Selections are made based on variety of event types and geographic regions.
EMA does not share non-EMA events on our social media platforms.