On-demand or non-time-sensitive performances should be submitted to the Online Performances.
Due to the COVID-19 pandemic, many of the festivals and workshops listed in calendar have been or may be canceled. Please use the contact information below for details.
Virtual Events
EMA's Young Performers Festival: McGill University Baroque
June 11 @ 1:00 pm

-

2:00 pm

EDT

Virtual Events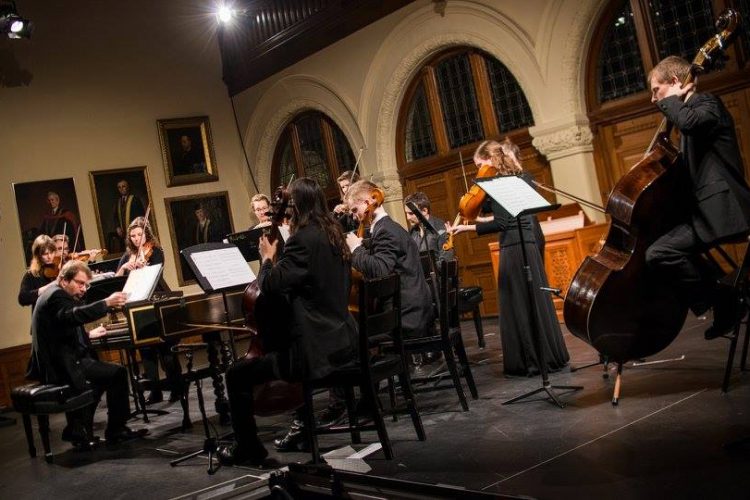 Join the Watch Party on EMA's Facebook Page at the scheduled time. Performers from each concert will be watching along, chatting, and taking your questions live in the comments. Performances will also be archived on EMA's YouTube Channel following the Watch Party.
McGill Baroque Orchestra / Capella Antica (Montreal, QC)
Dorian Bandy, Hank Knox, and Suzie LeBlanc, Artistic Director
The McGill Baroque Orchestra and Capella Antica share a program of highlights from their 2019-2020 season. Their "quintessentially Canadian" program features French and English music by Charpentier, de Lalande, Handel, and Lully. The program closes with a set from the Suite Codex Martínez Compañón (Peru) coordinated and arranged by McGill doctoral student Karin Cuellar Rendon.
PROGRAM
Suite de Médée  (Paris, 1693)
Marc-Antoine Charpentier (1643 – 1704)
Fanfare
Choeurs de Corinthiens et d'Argiens, Courez aux champs de Mars
Passacaille
Chaconne  (Les fontaines de Versailles, Versailles, 1683)
Michel-Richard de Lalande (1657 – 1726)
Concerto Grosso en Ré mineur / Concerto grosso in D minor
(Opus 6, no. 10, London, 1739)
George Frideric Handel (1685 – 1759)
Ouverture, [Lentement] – Allegro – Lentement
Air, Lentement
Allegro
Allegro
Allegro moderato
Chaconne du palmier Africain (Cadmus et Hermione, Paris, 1673)
Jean-Baptiste Lully (1632 – 1687)
Suite Codex Martínez Compañón
Anonymous (Perú) (arr. Karin Cuellar Rendon)
Cachua a voz y bajo Al nacimiento de Christo Nuestro!
Tonada La Lata
View the complete program with ensemble members, program notes, and translations.
Presented by Early Music America and San Francisco Early Music Society – SFEMS.
Funded in part by National Endowment for the Arts' Art Works program
Media partner: Sunday Baroque