On-demand or non-time-sensitive performances should be submitted to the Online Performances.
Due to the COVID-19 pandemic, many of the festivals and workshops listed in calendar have been or may be canceled. Please use the contact information below for details.
Virtual Events
EMA's Young Performers Festival: USC Thornton Early Music Ensemble
June 8 @ 1:00 pm

-

2:00 pm

EDT

Virtual Events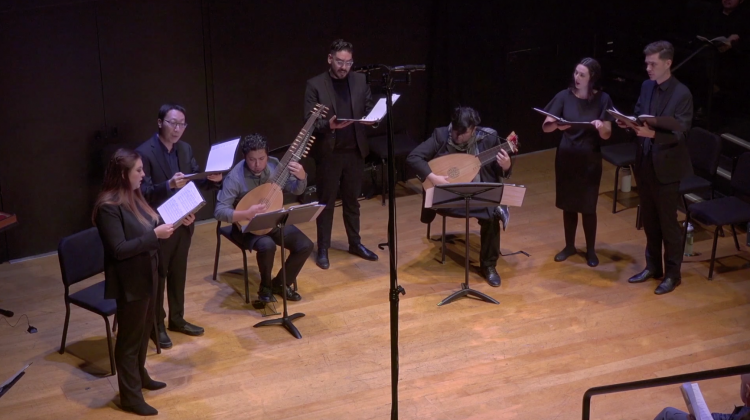 Join the Watch Party on EMA's Facebook Page at the scheduled time. Performers from each concert will be watching along, chatting, and taking your questions live in the comments. Performances will also be archived on EMA's YouTube Channel following the Watch Party.
USC Thornton Early Music Ensemble
Adam Knight Gilbert, Director | Rachelle Romero, Early Music TA
This virtual concert includes socially-distanced solo and small-scale pieces performed by our ensemble members during quarantine, as well as live footage from their 2019-2020 season. The socially-distanced performances feature music from Italy, Germany, France, and Guatemala, spanning from the fifteenth to the eighteenth century.
PROGRAM
Fuga Weiss, SW 6, London Manuscript
Silvius Leopold Weiss (1687-1750)
Ben venga Maggio
Anonymous (15th c. Florence)
"Full fathom five," The Tempest
Henry Purcell (c. 1659-1695)
Figlio dormi
Giovanni Kapsberger (1580-1651)
Doen Daphne d'over schoone Maeght
Jacob van Eyck (c. 1590-1657)
Weep, all ye nymphs/Why should all things bow to Love?
John Blow (1649-1708)
Variations over La Folia
Sophie Mathieu
Madre de Peccatori, Florence Laudario Anonymous, c. 1563
Toccata XX, Intavolatura di Liuto, et di Chitarrone
Alessandro Piccinini (1566- c. 1638)
Vaya de Jacaras
Raphael Castellanos (d. Guetemala City, 1791)
Wilt thou, unkind, thus reave me?
John Dowland (1563-1626)
Now, O Now I Needs Must Part
Dowland
View the complete program with ensemble members, program notes, and translations.
Presented by Early Music America and San Francisco Early Music Society – SFEMS.
Funded in part by National Endowment for the Arts' Art Works program
Media partner: Sunday Baroque