Add Your Event
View, Edit, or Delete Your Events
The EMA Member Concerts & Events Calendar is for 
time-sensitive events
, such as 
in-person concerts, livestreaming performances or video premieres, and live online events such as webinars. Events hosted by organizations/ensembles should be posted from an EMA Organization Member account. Videos available on-demand (temporarily or permanently) should not be submitted as multi-day events. Please submit Early Music News & Press Releases about these or other activities.
Haydn & Stamitz
February 25, 2024 @ 3:00 pm

-

5:00 pm

EST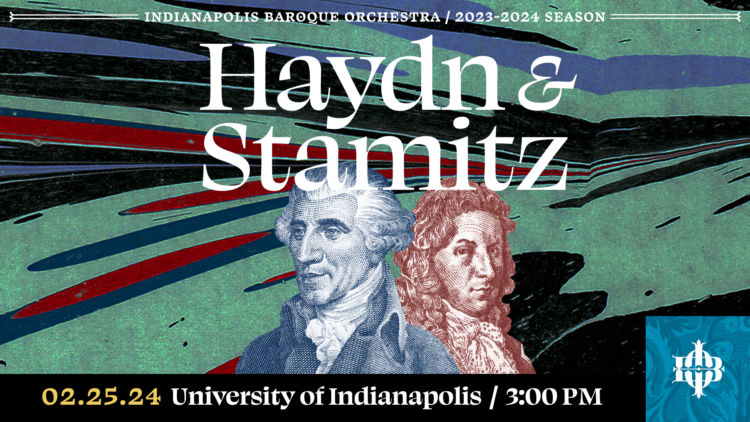 One wonders how music history would have looked without the appearance of Mozart, like a flashing comet in the sky. Doubtlessly, he eclipsed a large number of famous composers who were somehow pushed into the background during the late 18th and 19th century, and even up to today. Among his "victims," Joseph Haydn is the most important. Haydn became very famous from the mid-1760s onwards, but seems to have had less lasting effect on posterity. For most listeners, Haydn stays undervalued, and only his later symphonies are frequently played – unfortunately.

In this program we let you discover classical music that is all too seldom heard, because remaining in Mozart's shadow: two of Haydn's lesser-known symphonies, as well as one of the best 18th century flute concertos, written by Carl Stamitz.

Haydn was no Wunderkind, and he was well into his thirties before his compositions showed full maturity and mastery. He loved experimenting with the possibilities which his small orchestra (about IBO's size) offered him. Symphony no. 19 (c. 1760) is one of his earliest symphonies, lacking the minuet, and with limited intervention of the wind instruments, as was usual in Italian opera sinfonia. Its slow movement, though, shows Haydn's typical sense of patience and tenderness. No. 43 (ca.1771), on the 0ther hand, is one Haydn's great Sturm und Drang symphonies, full of emotion, contrast and surprise, not unlike the style of Carl Philipp Emanuel Bach, whom Haydn strongly admired. It remains unknown where the name "Merkur" came from –it appeared only in the 19 th century.

Carl Stamitz was the son of the famous leader of the Mannheim court orchestra, Johann Stamitz. As a virtuoso violin and viola player he traveled all over Europe, staying somewhat longer in some places (Paris, London, The Hague), but he never really found the stability of a well-paid job, and died in poverty. He composed mainly instrumental music: quartets, symphonies, and many concertos. As became customary in the Mannheim school, he frequently wrote for wind instruments. Among
these the clarinet and the "modern" flute with added keys, as developed in London during the 1760s-70s are featured. His music idiom is more "classical" than his father's, brilliant and colorful, and with a strong sense of lovely cantabile.
​
When thinking of Classical music, Mozart's name immediately springs to mind – and we easily forget other strong and popular composers who attracted great audiences, maybe even more than Mozart did. Two names to be remembered: Joseph Haydn and Carl Stamitz. Besides the brilliant Carl Stamitz flute concerto (arguably one of 18th century's best), IBO will perform one of Haydn's earliest symphonies (no. 19), still somehow resembling the traditional Italian opera overture, but already featuring the typical tender slow movement in minor that became Haydn's hallmark later in his career. Symphony no. 43 show us the mature Haydn, in a masterly, expressive and surprising Sturm und Drang style. Music not to be forgotten…
Highlights from this calendar are included in the weekly E-Notes email newsletter (Tuesdays). Selections are made based on variety of event types and geographic regions.
EMA does not share non-EMA events on our social media platforms.