The EMA Member Concerts & Events Calendar is for live, time-sensitive events, such as in-person concerts, livestreaming performances/premieres, and live online events such as webinars.You are also welcome to submit Early Music News & Press Releases about these or other activities.
Virtual Events
Keynote Discussion: Cooking & Baking as Elements of Wellness
January 17 @ 2:00 pm

-

3:00 pm

EST

Virtual Events

Free
Presented as part of the Well-Tempered Musician wellness series.
A discussion of cooking, baking, and nutrition as an element of wellness. Simulcast live on Facebook Live, YouTube Live, and Twitter.
Panel:
Tekla Cunningham
Baking has been a part of my life as for as long as I can remember. My father baked bread when I was growing up, even trading it with a friend who ran in importing business for Afghan carpets and lapis lazuli jewelry. My father studied in Vienna in the late 60's and brought home both Nicolas Harnoncourt's Teldec recordings, which shaped my musical tastes, and a taste for the middle European baked goods, from apricot dumplings to Zwetschkendatchi and Topfenpalatschinken. My German mother once famously tried to make a strudel and threw down the dough in frustration. My dad picked up the dough and the rest was history! Family trips to Europe to visit family and friends always included daily afternoon Kaffee und Kuchen (mit Schlag). When I went to Vienna for three years after undergraduate I studied violin but also made a thorough tour of the great coffeehouses and bakeries of that city. While studying and living in San Francisco and the Bay Area I enjoyed the year-round abundance of the farmer's markets as well as the incredible food scene. I've always loved the act of creating things with my hands. Music and concerts are a source of never ending joy but can be quite ephemeral, and I take great satisfaction in creating and sharing baked goods, especially around the holidays and for festive occasions like birthdays and weddings. Learning about different food traditions is such a wonderful way to learn about different cultures and traditions, and a way of sharing mine.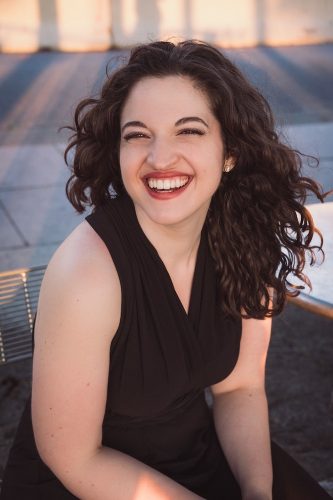 Sarah Jane Kenner (The Hungry Musician) is a professional violinist, blogger, and culinary coach in the New York City area. As a violinist, Sarah specializes in early music, and has performed with leading period instrument ensembles in venues such as Lincoln Center, Carnegie Hall, Washington National Cathedral, the Caramoor Center for Music and the Arts, and Trinity Church Wall Street. She holds performance degrees from The Juilliard School, the Manhattan School of Music, and Temple University. At The Hungry Musician, Sarah enjoys providing cooking tips and wholesome, flavorful recipes geared towards creative individuals. She knows firsthand how hard it can be to fit cooking (and other forms of self-care) into a busy lifestyle – but she also knows how essential it is for maintaining physical, mental, and creative health. For this reason, she has made it her mission to encourage her unique following and clientele to embrace cooking creatively and efficiently. For more recipes, food content, and information about culinary coaching, visit Sarah on Instagram and Facebook @hungrymusician or at https://www.thehungrymusician.com. To follow along with Sarah's musical engagements and projects, visit www.sjkviolin.com.