EMA members can add their events to the calendar through the "Events" section their membership account accessed at the top righthand corner of this page.
Lost and Found
May 18 @ 7:30 pm
EDT
$22 – $25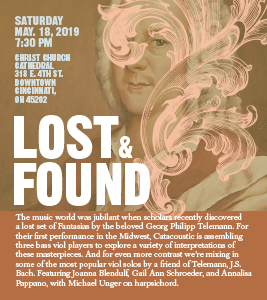 Lost & Found
Christ Church Cathedral, 318 E. 4thStreet, Downtown Cincinnati
Saturday, 7:30PM, May 18, 2019
The music world was jubilant when scholars recently discovered a lost set of Fantasias by the beloved Georg Philipp Telemann. For their first performance in the Midwest, Catacoustic is assembling three bass viol players to explore a variety of interpretations of these masterpieces. And for even more contrast we're mixing in some of the most popular viol solos by a friend of Telemann, J.S. Bach. Featuring Joanna Blendulf, Gail Ann Schroeder, and Annalisa Pappano, with Michael Unger on harpsichord.