The EMA Member Concerts & Events Calendar is for live, time-sensitive events, such as in-person concerts, livestreaming performances/premieres, and live online events such as webinars.You are also welcome to submit Early Music News & Press Releases about these or other activities.
Highlights from this calendar are included in the weekly E-Notes email newsletter (Tuesdays). Selections are made based on variety of event types and geographic regions.
EMA does not share non-EMA events on our social media platforms.
Lumedia Musicworks presents the story of Élisabeth Jacquet de la Guerre
April 30 @ 7:00 pm

-

May 10 @ 11:00 pm

CDT

Free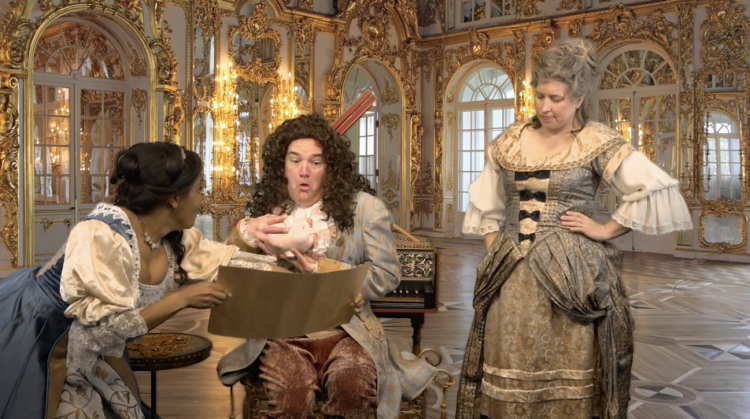 DALLAS – For the third installment of its "Stories" series about women composers, Lumedia Musicworks presents the story of famed Parisian composer, Élisabeth Jacquet de la Guerre. The short, lighthearted documentary film and performance will debut on Lumedia's website at 7 p.m. Friday, April 30.
The performance is offered at no charge. Registration is at https://www.lumediamusicworks.com/stories-de-la-guerre. Musicians performing Jacquet de la Guerre's work include violinist Stephanie Noori of Westworth Village, Texas; Christopher Phillpott of Dallas and Molly Hammond of Houston.
It will be available until 11:59 p.m. May 10.
"Élisabeth Jacquet was a talented harpsichordist and composer," said Julianna Emanski of Frisco, Texas, Lumedia's artistic director. "She is one of the few women of her time to compose an opera and publish music in her own name – an incredible accomplishment for a woman in the 18th century. Modern audiences are now discovering her music."
Jacquet de la Guerre lived from 1665 to 1729.
Dallas-based nonprofit Lumedia is committed to sharing early music – music before 1750 – with audiences. The 2020-21 performances are available online.
Jendi Tarde of Lewisville, Texas, researched, wrote and directed the film. The program host and narrator is Elaine Scholly of Dallas.
Cast members are Noori as the adult Jacquet de la Guerre; Tarde as Lady Gossiptown; 6-year-old Wyatt Killberg of Lewisville as the young Jacquet de la Guerre; Ben Killberg of Lewisville as King Louis XIV; Regina Branford of Dallas as Marquise de Montespan; and Thane Isaac of Denton, Texas, as François Couperin.
The film was shot in Dallas and Frisco. The musical performance was filmed in Celina, Texas.
All of Lumedia's previous performances, including other Stories installments, are available at https://www.lumediamusicworks.com/season.