EMA members can add their events to the calendar through the "Events" section their membership account accessed at the top righthand corner of this page.
Midtown Concerts presents Concordian Dawn
March 22 @ 1:15 pm

-

2:00 pm

Free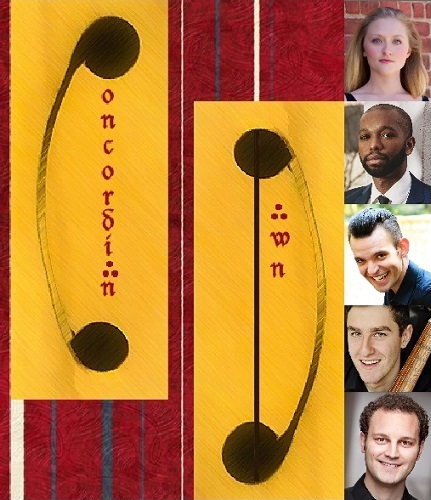 Fortuna Antiqua et Ultra
Through the lens of the Goddess of Fortune, Fortuna Antiqua et Ultra will focus primarily on music from the European ars antiqua, c. 1100-1300, featuring works of the troubadours and trouvères, Adam de la Halle, Vitry, the Florence MS, MS du Roi, and the Roman de Fauvel. The concluding portion of the concert will look beyond the ars antiqua to music by Josquin, Machaut, and DuFay.
Concordian Dawn specializes in Medieval vocal repertoire, focusing on socio-philosophical similarities between texts from centuries ago and the mindset of modern society, relating the human condition of the past to the familiar experiences of the present. Founded in 2012, the ensemble performs regularly on the east coast in both concert and lecture/workshop settings. www.concordiandawn.com
Christopher Preston Thompson, artistic director, tenor, medieval harp
Patrick Fennig, countertenor
Sarah Hawkey, soprano
Niccolo Seligmann, Vielle
Related Events