The EMA Member Concerts & Events Calendar is for live, time-sensitive events, such as in-person concerts, livestreaming performances/premieres, and live online events such as webinars.You are also welcome to submit Early Music News & Press Releases about these or other activities.
Highlights from this calendar are included in the weekly E-Notes email newsletter (Tuesdays). Selections are made based on variety of event types and geographic regions.
EMA does not share non-EMA events on our social media platforms.
Mozart, CPE Bach, and Friends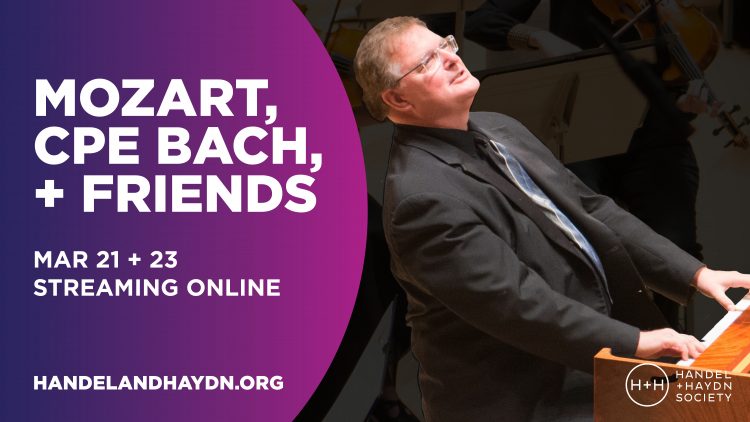 Remember how music changed in the 1950's to 1970's, as Elvis Presley led to the Beatles? Well, the 1750's to 1770's were a lot like that, with the Baroque era of Handel and JS Bach evolving, in the hands of Mozart and JS Bach's son CPE, into the Classical. Indeed, H+H itself, which in its name salutes both Handel (Baroque) and Haydn (Classical), epitomizes this dynamic period. Join us for gems from this unique time when the new rules of music were invented by young upstarts like Mozart and CPE Bach, but also by a pair of Brits you may not yet know but will thoroughly enjoy – Charles Avison and William Boyce. Ian Watson conducts the H+H Orchestra and Emily Marvosh is our host.
Music
Mozart: Epistle Sonata No. 10 in F Major
Mozart: Epistle Sonata No. 15 in C Major
CPE Bach: Symphony for Strings in C Major, Wq. 182/3
Avison: Concerto grosso No. 5 in D Minor (after Scarlatti)
Boyce: Symphony No. 1 in B-flat Major
Performed By
Ian Watson, director
H+H Orchestra