Add Your Event
View, Edit, or Delete Your Events
The EMA Member Concerts & Events Calendar is for 
time-sensitive events
, such as 
in-person concerts, livestreaming performances or video premieres, and live online events such as webinars. Events hosted by organizations/ensembles should be posted from an EMA Organization Member account. Videos available on-demand (temporarily or permanently) should not be submitted as multi-day events. Please submit Early Music News & Press Releases about these or other activities.
Nigra Sum Des Formosa: Morenas en Ibero-America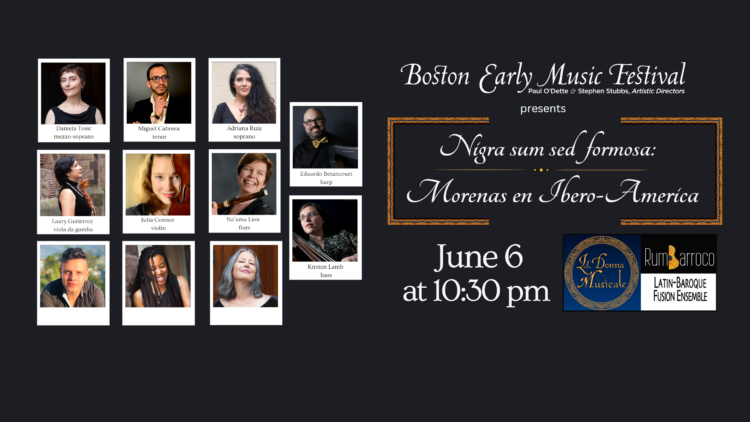 Making their BEMF début, La Donna Musicale and Rumbarroco perform songs and polyphonic settings that highlight "Morenas"—dark-skinned women—in the Ibero-American repertory. Director Laury Gutiérrez leads us on a musical voyage from the Iberian Renaissance to African-influenced folk traditions in contemporary South America. The program features settings of "Nigra sum sed Formosa" from the "Song of Songs" and other selections from Spanish songbooks—Cancioneros—with endearing depictions of "Morenas", interspersed with dances. Selections include music by Manuel Machado, Francisco de Peñalosa, Santiago de Murcia, and others.
Haciendo su debut en el BEMF (Boston Early Music Festival), La Donna Musicale y Rumbarroco interpretan canciones y arreglos polifónicos que resaltan a las "Morenas" (mujeres de piel oscura) en el repertorio iberoamericano. La directora Laury Gutiérrez nos guía en un viaje musical desde el Renacimiento ibérico hasta las tradiciones folclóricas influenciadas por África en la América del Sur contemporánea. El programa incluye interpretaciones de "Nigra sum sed Formosa" del "Cantar de los Cantares" y otras selecciones de los Cancioneros españoles, con representaciones encantadoras de las "Morenas", entrelazadas con danzas. Las selecciones incluyen música de Manuel Machado, Francisco de Peñalosa, Santiago de Murcia y otros.
Adriana Ruiz, soprano
Daniela Tosic, mezzo-soprano
Miguel Cabrera, tenor
Na'ama Lion, flute
Julia Connor, violin
Eduardo Betancourt, harp & percussion
Kera Washington, percussion
Juan Sebastian Sanchez, percussion
Katherine Shao, keyboards
Kirsten Lamb, bass
Laury Gutierrez, viola da gamba & Renaissance guitar
Highlights from this calendar are included in the weekly E-Notes email newsletter (Tuesdays). Selections are made based on variety of event types and geographic regions.
EMA does not share non-EMA events on our social media platforms.