Add Your Event
View, Edit, or Delete Your Events
The EMA Member Concerts & Events Calendar is for time-sensitive events, such as in-person concerts, livestreaming performances or video
premieres
, and live online events such as webinars.
Videos available on-demand (temporarily or permanently) should not be submitted as multi-day or recurring events.
Information about on-demand viewing periods are welcome as
community news and press releases
.
Online for age 8-11: Learn to Play the Recorder
October 4
Sliding fee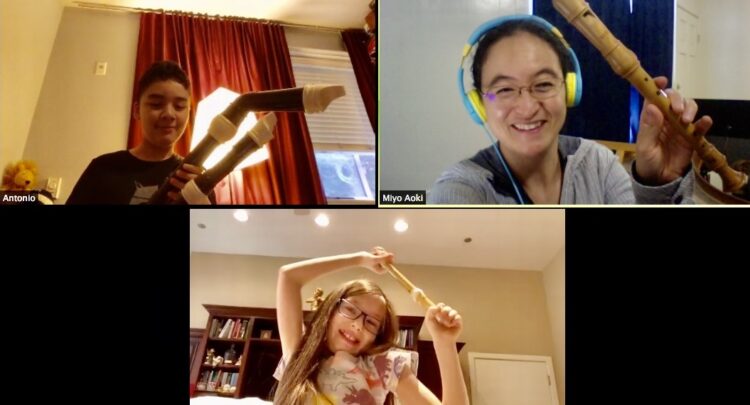 Seattle Historical Arts for Kids presents: Play the Recorder—for Real!
Enrollment deadline: Sept 24
Six Tuesdays, Oct 4 through Nov 15; no class Oct 25
Afterschool class: 4pm US Pacific/7pm Eastern
Homeschool class: 9am US Pacific/12pm Eastern
These classes are for: Newcomers to the recorder, age 8-11. (Age 6-7 may be able to participate with the active assistance of a parent; please contact us before registering.) Per-class maximum of 7 students.
One of our best-loved online classes is back! The recorder was a popular instrument in the Medieval, Renaissance, and Baroque eras, enjoyed as a social activity by everyone from royalty to common folk. Join other curious young people in this interactive class (cameras on!) to learn the basics of playing soprano recorder from SHAK's beloved online teacher, Miyo Aoki. You'll learn real music from history—tunes that are centuries old but still captivating today! The recorder is a satisfying instrument with a sweet tone and a lifetime of repertoire to discover, yet it's still accessible enough to learn good technique effectively online.
Tuition includes some basic supplies that everyone will receive by mail.
You will also need a plastic soprano recorder that uses Baroque fingering. You may purchase the Yamaha YRS 302B from us with your registration or from any other dealer. (If you happen to own one of the following recorders already, these are also fine: Yamaha YRS 312B, YRS 314B, YRS 402B, YRS 24B, YRS 20B series, or Peripole Baroque Soprano Halo. If you do not already own one of these specific named recorders, please purchase the Yamaha YRS 302B.)
ABOUT SHAK's ONLINE SERIES CLASSES:
These classes meet on Zoom and last 50-60 minutes unless otherwise specified. Register in advance at the bottom of the page, and pay by one of the options shown below the form. Space is limited, usually to just 7 or 10 participants in each class, so enrolling early is recommended.
Our programs are designed to let young people enjoy each other's company and connect socially around shared interests. For more information about SHAK's whole roster of learning and performing programs, both in-person and online, visit our Enroll page and join our mailing list. 
All of SHAK's programs operate on a sliding-fee basis. We know that everyone benefits when our classes are accessible, diverse, and welcoming!
The EMA Member Concerts & Events Calendar is for time-sensitive events, such as in-person concerts, livestreaming performances or video premieres, and live online events such as webinars. Videos available on-demand (temporarily or permanently) should not be submitted as multi-day events. Please submit Early Music News & Press Releases about these or other activities.
Highlights from this calendar are included in the weekly E-Notes email newsletter (Tuesdays). Selections are made based on variety of event types and geographic regions.
EMA does not share non-EMA events on our social media platforms.