Virtual Events
Afrobaroque Music & Latin America
October 1 @ 7:30 pm

-

8:30 pm

EDT

Virtual Events

$18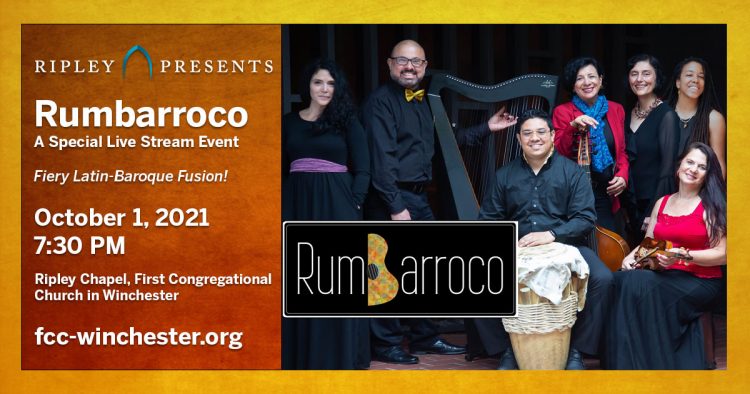 Join us for a rousing and distinct evening of rhythmic dances and virtuosic performances, as the 8 superstar musicians of Rumbarroco swing and groove their way through the African diaspora in Latin America. In celebration of Hispanic Heritage Month, Rumbarroco focuses on intercultural fusion between musical traditions, including early European music of the Renaissance and Baroque and its confluence with African, Amerindian and Latin-American genres.
"If one were to draw a line separating the sonic world of a contemporary Latin street band from that of a historically trained early music ensemble, Rumbarroco would be the group of musicians dancing merrily back and forth over the line…Their unlikely fusion of sounds and styles creates a captivating genre all its own." —Elaine Schmidt, Journal Sentinel, 2015
Rumbarroco is the brainchild of powerhouse founding director Laury Gutiérrez. She is also the founder of La Donna Musicale, an internationally acclaimed ensemble performing early music by women composers. Gutiérrez is the recipient of numerous awards and citations, including the prestigious Thomas Zajac Memorial Scholarship given by Early Music America.
Rumbarroco's performers include Adriana Ruiz & Daniela Tosic, voice; Lisa Brooke, Baroque violin; Eduardo Betancourt, Venezuelan harp; Ricardo Matute, percussion; Roberto Perez, Oraa, Bandola & percussion; Kera M. Washington, percussion; Laury Gutiérrez, viola da gamba & Renaissance guitar.
The EMA Member Concerts & Events Calendar is for time-sensitive events, such as in-person concerts, livestreaming performances or video premieres, and live online events such as webinars. Videos available on-demand (temporarily or permanently) should not be submitted as multi-day events. Please submit Early Music News & Press Releases about these or other activities.
Highlights from this calendar are included in the weekly E-Notes email newsletter (Tuesdays). Selections are made based on variety of event types and geographic regions.
EMA does not share non-EMA events on our social media platforms.