Abendmusik – New York's Period Instrument String Band™ presents "Roman Rarities"
March 6 @ 8:00 pm

-

10:00 pm

EST

$10 – $20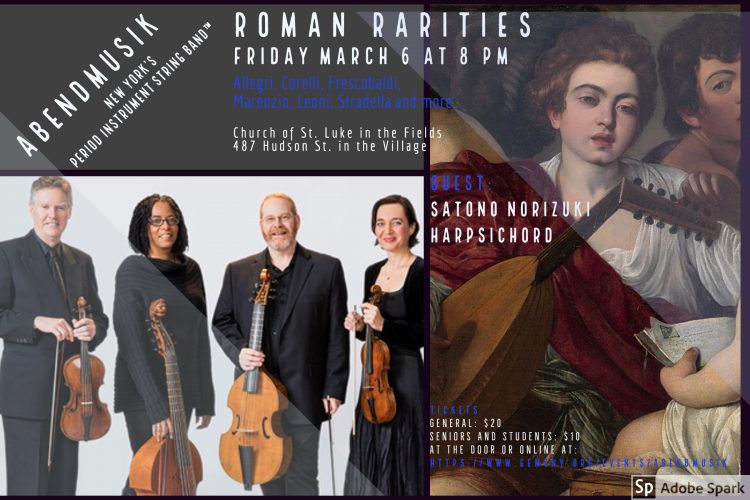 After the disaster of the sack of Rome in 1527, the Popes were intent on seeing the city rebuilt in every sense. They and competing wealthy families bestowed lavish patronage so that Rome in the 16th and 17th centuries became a major cultural capital. Countless artists came from all over Europe, examples being the painters Ribera from Spain and Poussin and Lorrain from France; the work of the Neapolitan sculptor and architect Bernini, primarily associated with Rome, is the epitome of Baroque art.  Musicians working there who composed instrumental ensemble music include Allegri, Leoni, Frescobaldi, Marenzio, Scarlatti, Stradella,  and Corelli. Join Abendmusik for a program that reflects the contributions of artists who built this rich cultural center.
Judson Griffin, violin; Małgorzata Ziemnicka, violin; Lawrence Lipnik, viola da gamba; Patricia Ann Neely, viola da gamba;
Guest: Satono Norizuki, harpsichord
Tickets available online at www.gemsny.org/events/abendmusik or at the door on the night of the performance.
Contributions to Abendmusik are gratefully appreciated.  You may contribute online at: www.abendmusik.net/contactus.html
Concerts are made possible by the fiscal sponsorship and administrative services of Gotham Early Music Scene, Inc. and the "New York State Council on the Arts with the support of Governor Andrew M. Cuomo and the New York State Legislature"  and LMCC New York City Department of Cultural Affairs.