Add Your Event
View, Edit, or Delete Your Events
The EMA Member Concerts & Events Calendar is for time-sensitive events, such as in-person concerts, livestreaming performances or video
premieres
, and live online events such as webinars.
Videos available on-demand (temporarily or permanently) should not be submitted as multi-day or recurring events.
Information about on-demand viewing periods are welcome as
community news and press releases
.
Sinfonia Spirituosa: An Afternoon in Italy at Episcopal Church of St. Martin
March 5 @ 4:00 pm

-

6:00 pm

PST

$10 – $30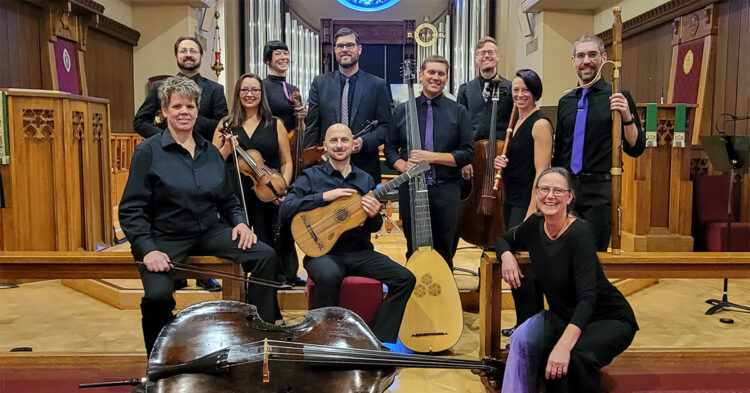 March is Early Music Month! Please join Sinfonia Spirituosa for "An Afternoon in Italy" as we live up to our name in a sparkling, high-energy program celebrating Italian baroque music Harmonically rich and rhythmically playful, Francesco Geminiani's Concerto Grosso Op. 2, No. 4 in D Major, steps out of winter into spring with the sunny trio of soloists flutist Cathie Apple, violinist Tyler Lewis, and cellist Timothy Stanley. Bassoonist David A. Wells will perform Sonata No. 8 from Arcangelo Corelli's famous and tremendously influential Opus 5. As part of our Mentorship Program, we are especially proud and excited to collaborate with 11 talented students from the Davis Senior High Baroque Orchestra. Don't miss the opportunity to hear these young musicians shine as we celebrate Domenico Scarlatti's inspiration for the Concerto Grosso in D Minor No. 5 by Charles Avison. All the color, character and energy of the Four Seasons are packed into the emotional roller coaster ride of Vivaldi's Violin Concerto in E Minor, an exhilarating tour de force featuring concertmaster Jubal Fulks. The Andante Stacatto e Piano of Antonio Caldera, with its charming dialog and elegant lilt, provides a thoughtful respite that nods toward a later style. Bringing our concert to a vibrant end, the plucking and strumming of harpsichord, baroque guitar, arch lute and theorbo drive the imaginative, French-influenced variations of the grand Chaconne in A Major by Giuseppe Antonio Brescianello.
Note: Sinfonia Spirituosa recommends that audience members wear masks, covering both mouth and nose, while inside Episcopal Church of St. Martin for this concert.
Find out more about Sinfonia Spirituosa here: https://sinfoniaspirituosa.org/
Program
Francesco Geminiani:

Concerto Grosso for Flute, Violin and Cello in D Major

, Op. 2, No. 4

Arcangelo Corelli:

Sonata for Bassoon and Continuo

in A Minor

, Op. 5, No. 8

Charles Avison:

Concerto Grosso No. 5 in D Minor

after Scarlatti

Antonio Vivaldi:

Concerto for Violin, Strings and Continuo in E Minor

, RV 278

Antonio Caldera:

Andante Stacatto e Piano from the

Sinfonia in C Major

Giuseppe Antonio Brescianello:

Chaconne in A Major
The Davis Senior High School Baroque Ensemble, directed by Angelo Moreno, provides 10 – 12th grade students the rare opportunity to focus on Baroque performance practice and the mastery of technical skills on period instruments. These instruments allow the ensemble to recreate the style of this era through historically informed performances, making the overall experience uniquely engaging for student musicians and audiences alike. The first group of its kind at the high school level in the country, the DHSBE is nationally recognized as a model for other public school music programs. In 2014 and 2017, the DHSBE was joined by Rachel Barton Pine as a guest solo artist, and was thrilled to welcome her back for a benefit concert in October, 2022. The DHS Baroque Ensemble made its debut on the main stage of the 2014 Berkeley Baroque Festival, and was honored to have been invited back for the 2016, 2018, and 2020 Festivals. In June of 2014, the group had its first European tour to Italy, and in 2017 the ensemble enjoyed its second major international tour starting in Austria and ending in Italy. In June, 2023, the DSHBE is privileged to return to Europe for a tour to England, Belgium and France.
The EMA Member Concerts & Events Calendar is for time-sensitive events, such as in-person concerts, livestreaming performances or video premieres, and live online events such as webinars. Videos available on-demand (temporarily or permanently) should not be submitted as multi-day events. Please submit Early Music News & Press Releases about these or other activities.
Highlights from this calendar are included in the weekly E-Notes email newsletter (Tuesdays). Selections are made based on variety of event types and geographic regions.
EMA does not share non-EMA events on our social media platforms.