Songs from Shakespeare's Day
October 10 @ 6:30 pm

-

7:30 pm

CDT

Free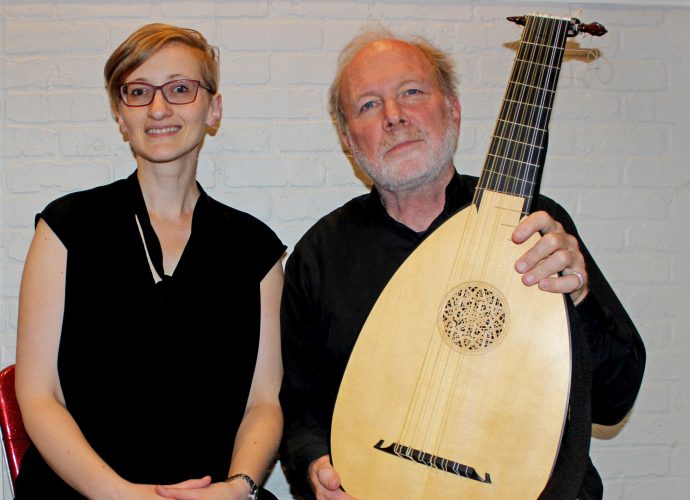 Jillian Law Grygier (soprano) has wide-range of musical training and experience as a performer and educator. She earned a B.Mus. in both Music Education and Vocal Performance from Ithaca College. Following her undergraduate studies and a stint as a music educator, Jillian enrolled in the highly-regarded graduate program at the Early Music Institute of Indiana University's School of Music. In the process of earning her M.Mus. degree in Early Music Vocal Performance, she studied with tenor Paul Elliot and worked closely as well as with Nigel North and Michael McCraw. After her graduation from EMI, Jillian returned to St. Louis and became an active member of the city's choral scene. She has sung with many of the elite vocal ensembles in St. Louis, appearing as both a featured soloist and ensemble member. In addition to appearing on the St. Louis Cathedral Concert Series, Jillian has sung with the St. Louis Chamber Chorus, the Bach Society of St. Louis, and the St. Louis Symphony Chorus. Although she has left the music classroom behind, Jillian continues to teach privately in St. Louis's South City neighborhood where she lives with her husband and son.
Trained as a classical guitarist, Jeffrey Noonan (theorbo, baroque guitar) has played lute, theorbo and early guitars for over forty years across the Midwest. Based in St. Louis, he has performed throughout the region with various ensembles including Shakespear's Bande, Early Music St. Louis, Passione ed Armonia, Kansas City Baroque Consortium, Bourbon Baroque (Louisville), Madison Early Music Feistival (Madison, WI), Ars Antigua (Chicago), and Musik Ekklesia (Indianapolis.) In addition, Jeff has created and directed a number of Early Music ensembles including The Ellenwood Consort and, most recently, Such Sweete Melodie. An in-demand accompanist and continuo player, Jeff performs a varied repertoire ranging from sixteenth-century chanson with solo voice to Handel's Messiah with the St. Louis Symphony. A recognized expert on the early guitar, Jeff has produced two books and several articles for Grove Dictionary of American Music on the subject as well as an edition of eighteenth-century Italian violin sonatas for A-R Editions. His current research project is an edition of two 17th-century Italian song manuscripts he uncovered at the Newberry Library. Jeff has received funding from the National Endowment for the Humanities and in 2015 the Newberry Library named him a Cullen Fellow to research and edit music manuscripts in its collection. In 2016, the St. Louis Regional Arts Commission awarded Jeff an Artist Fellowship recognizing his accomplishments in scholarship, pedagogy and performance.
Jeff holds degrees from the University of Notre Dame (A.B.), the Hartt School of Music (B.Mus.) and Washington University in St. Louis (M.Mus., Ph.D.) He has served as adjunct faculty at St. Mary's College, Indiana/Purdue Universities in Fort Wayne, Andrews University and Washington University in St. Louis. In 1999, Jeff joined the full-time faculty of Southeast Missouri State University where he taught upper-level music literature and history courses and directed the classical guitar program. He retired from Southeast as a Professor of Music in 2015.
In early 2019, Jeff presented an Early Music concert series, Early Music@First in St. Louis. That short and informal series led to the establishment of Early Music Missouri and the expansion of the Early Music@First series to six concerts for the 2019 -2020 season. More information about Early Music Missouri and Early Music@First can be found at earlymusicmissouri.org.