The EMA Member Concerts & Events Calendar is for live, time-sensitive events, such as in-person concerts, livestreaming performances/premieres, and live online events such as webinars.You are also welcome to submit Early Music News & Press Releases about these or other activities.
Highlights from this calendar are included in the weekly E-Notes email newsletter (Tuesdays). Selections are made based on variety of event types and geographic regions.
EMA does not share non-EMA events on our social media platforms.
Virtual Events
"Sweet in melody and voice: Words, neumes and music in the odes of St. Gregory of Narek"; EMSI Musicology Forum with Haig Utidjian
February 5 @ 1:00 pm

-

2:00 pm

PST

Virtual Events

Free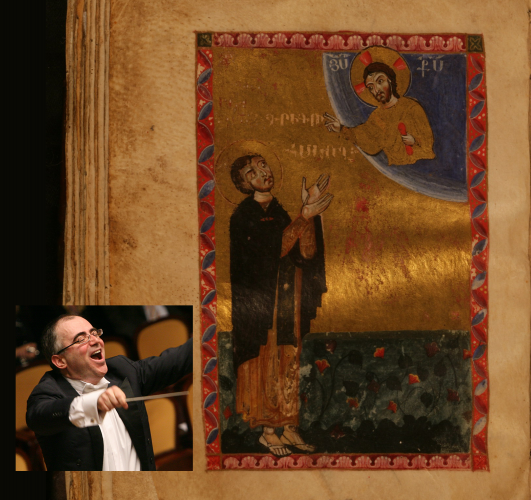 Presented as part of USC's Musicology Forum hosted by the Early Modern Studies Institute 2020-2021 Early Music Series in partnership with EMA, musicologist and conductor Haig Utidjian will shed light on some of the mysteries surrounding the odes of tenth-century Armenian mystic poet and musician, St. Gregory of Narek, including forgotten textual traditions, an undeciphered neumatic notation, and unknown extant melodies.
Haig Utidjian is an orchestral conductor, chorus master and musicologist. He was educated at the Universities of Sussex, London and Cambridge, at the Guildhall School of Music and Drama in the UK (where he was the recipient of the Ricordi Conducting Prize), at the Accademia Chigiana in Siena, and by means of private consultations with Lothar Zagrosek, Carlo Maria Giulini, Vilém Tauský and Josef Kuchinka. He has served as Chief Conductor of the Orchestra and Chorus of Charles University in Prague since 2001, has guest conducted in Europe and the Unitied States, and worked on a number of acclaimed opera productions. Haig is a Senior Deacon of the Armenian Church, and a pupil of Abp. Zareh Aznaworean of blessed memory, with research interests in the musicology, theology and iconography of the Armenian Hymnal and the works of St. Gregory of Narek. He has published the volumes They who imbibed the effusions of the Spirit: The Art of the Armenian Book through the Ages (Mervart, 2016), Treasures of the earliest Christian nation: Spirituality, Art and Music in Mediaeval Armenian Manuscripts (Royal Canonry of Premonstratensians at Strahov in Prague, 2018), Tntesean and the Music of the Armenian Hymnal  (Mervart, 2018), and a critical edition of Dvořák's Mass in D (Bärenreiter Praha, 2020). In the US he has recently lectured at the Library of Congress, and performed at the Metropolitan Museum of Art in New York and at a variety of further venues, directing the ensembles Axion Estin and Cappella Romana. Haig Utidjian was recently decorated with the Komitas medal by the Armenian state and the Yakob Mełapart medal by the National Library of Armenia.