On-demand or non-time-sensitive performances should be submitted to the Online Performances.
Due to the COVID-19 pandemic, many of the festivals and workshops listed in calendar have been or may be canceled. Please use the contact information below for details.
The 18th-Century Viol: The Legacy of Marin Marais
May 24 @ 7:00 pm

-

8:00 pm

EDT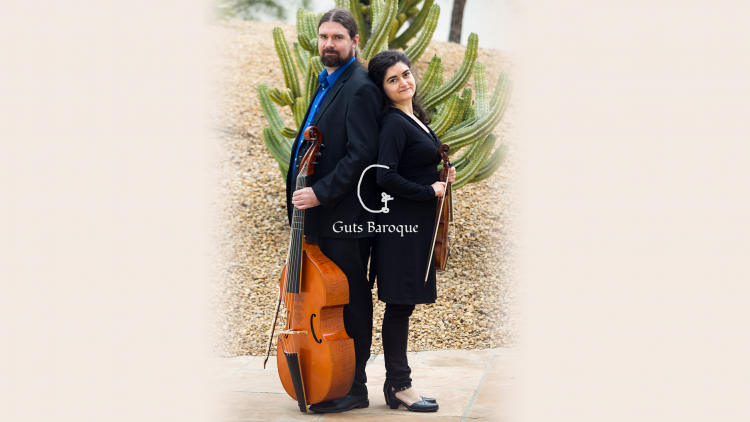 Marin Marais is the most beloved composer by players of the viola da gamba. He lived and worked for Louis XIV at the height of the French baroque era, and his music exemplifies the grace and delicacy of French music, as defined by his friend and colleague Jean Baptiste Lully. His five books of Pieces de Viole contain hundreds of dances, fantasies and character pieces, organized into suites by key. The techniques, decorations and musical idioms contained in these pieces were passed along by Marais to his students, several of whom became renowned viol players and composers themselves. These students include Charles Dollé, Jacques Morel, Louis de Caix-d'Hervelois, and of course his son Roland Marais.
Guts Baroque will perform for you music by Marais and his students, as well as the violinist Antione Dauvergne, whose compositional styles reflect the evolving musical tastes of France under Louis XV. Prepare to be transported to the court of Versailles, to dance and be moved by the gentle, refined and elegant music of the French baroque!
Program:
Marais' Suite d'un Gout Etranger, or Suite in a Foreign Taste
his son Roland Marais' Suite in C, amiable and friendly
his student Dollé's Tombeau de Marais le Père, a memorial for the great teacher after his death,
and contemporary Dauvergne's Opus 2 Sonata #1, a fun violin sonata from the tail end of the Baroque era.
Complete program with notes at https://gutsbaroque.com/concerts
Click here at concert time to view the concert! If you join late, you will be able to "rewind" to the beginning.
Monthly sustaining donors are warmly invited to join us for a virtual pre-concert hello and post-concert reception. Become a monthly sustaining patron here: https://patreon.com/gutsbaroque The link for the virtual gathering will be available on concert day on that Patreon page.
_____________________
Guts Baroque brings beautiful and unusual music that we love from the 17th and 18th centuries to your ears, illuminating the stories behind the music and its makers and celebrating the warmth and vividness of historically-informed chamber music played on period instruments.
A collaboration between Sylvia Schwartz, baroque violinist, and John Ott, scholar, baroque cellist, and viola da gambist, Guts arose naturally while studying in the Early Music program at Longy School of Music of Bard College. While there, Ott earned a Master of Music in viola da gamba and Schwartz earned an MMus in modern violin, augmented by Dalcroze and historical performance. Schwartz stumbled across early music while crossing paths with longtime viola da gambist and music historian Ott in a chamber ensemble, and is extremely glad she did!
Since graduating in 2015 and 2016, Guts has been busy establishing itself in Southern California and New England, presenting concerts in churches, breweries, and everything in between, as well as running their other ensemble, L'Esprit Baroque. Ott and Schwartz also teach a plethora of violin, cello, and viola da gamba students, and bring historical performance awareness to the public school orchestra programs in Irvine, CA.