Add Your Event
View, Edit, or Delete Your Events
The EMA Member Concerts & Events Calendar is for time-sensitive events, such as in-person concerts, livestreaming performances or video
premieres
, and live online events such as webinars.
Videos available on-demand (temporarily or permanently) should not be submitted as multi-day or recurring events.
Information about on-demand viewing periods are welcome as
community news and press releases
.
The Venetian Harpsichord with Owen Daly
February 18 @ 2:00 pm

-

4:00 pm

PST

$10 – $25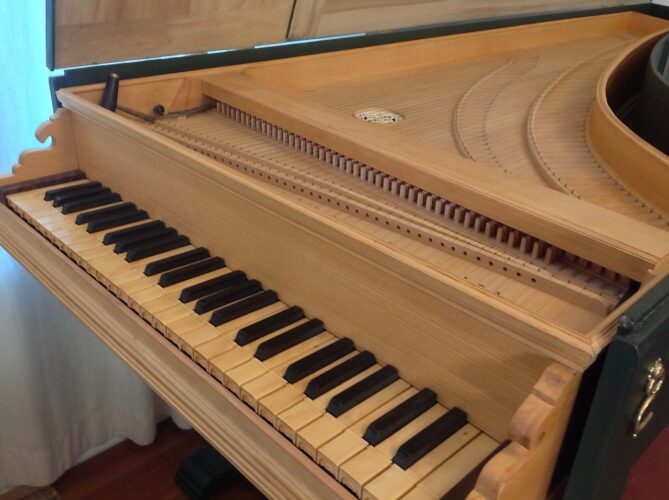 On Saturday, February 28, 2023, Owen Daly, builder of harpsichords and clavichords located in Salem, Oregon, will showcase his recently completed instrument made after Venetian models. Owen has presented for WEKA previously. In 2016, he shared his French instrument after Jean-Claude Goujon in a program of François Couperin and Rameau.
The instrument featured in this program is in the style of 16th-century Venetian harpsichords, which included such illustrious makers as Dominicus Pisaurensis and the Trasuntinos. It is not after a specific exemplar, but was designed based upon some recent hypotheses about 16th-century layout practice published by Denzil Wraight, with reference to a number of surviving exemplars.
It is a 'true inner-outer' Italian harpsichord, with the harpsichord itself housed in a separate outer case. The instrument's body and soundboard are of Italian cypress, and the stringing, as was typical of early Italian practice, is in iron save for the use of brass in the bottom three notes of the C/E short octave.
The recital features music appropriate for the instrument's capabilities, including some works with specifically Venetian connections, and works from outside Venice, but appropriate given that Venetian harpsichords were widely available outside Venice. Composers include: Andrea Antico, Andrea Gabrieli, Michelangelo Rossi, Claudio Merulo, Girolamo Frescobaldi, Antonio de Cabezón and Peter Phillips.
You'll have an opportunity to ask questions and try the instrument yourself. Please join us for this valuable learning opportunity!
February 25, 2023, 2pm – Watch the online video premiere of this event on our YouTube channel
The EMA Member Concerts & Events Calendar is for time-sensitive events, such as in-person concerts, livestreaming performances or video premieres, and live online events such as webinars. Videos available on-demand (temporarily or permanently) should not be submitted as multi-day events. Please submit Early Music News & Press Releases about these or other activities.
Highlights from this calendar are included in the weekly E-Notes email newsletter (Tuesdays). Selections are made based on variety of event types and geographic regions.
EMA does not share non-EMA events on our social media platforms.