Add Your Event
View, Edit, or Delete Your Events
The EMA Member Concerts & Events Calendar is for 
time-sensitive events
, such as 
in-person concerts, livestreaming performances or video premieres, and live online events such as webinars. Events hosted by organizations/ensembles should be posted from an EMA Organization Member account. Videos available on-demand (temporarily or permanently) should not be submitted as multi-day events. Please submit Early Music News & Press Releases about these or other activities.
Wheel of the Innocents-17th-Century Composers in the Venetian Ospedale
September 20 @ 7:30 pm

-

8:30 pm

EDT

Free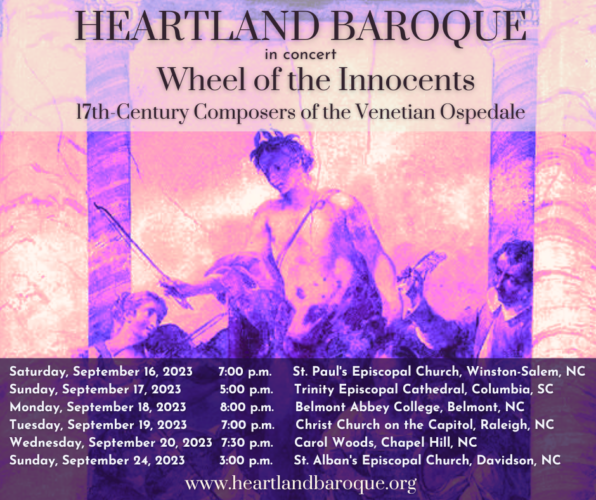 Established as charitable communities for the needy in the fourteenth-century, the Venetian Ospedale Grandi served as convents, orphanages, and hospitals for the sick. By the seventeenth and eighteenth-centuries, these institutions also became famous for their highly gifted all-female musical ensembles, attracting audiences from all over Europe. The Ospedale della Pietà achieved particular notoriety because of its resident violinist, composer, and teacher, Antonio Vivaldi. Heartland Baroque (Martie Perry and David Wilson, baroque violins; Keith Collins, dulcian; Barbara Krumdieck, baroque cello; William Simms, baroque guitar and theorbo presents an imaginative journey heralding the composers and teachers of the Ospedale that came before Vivaldi, and who gave inspiration and influence to him and his colleagues. Music for baroque violins, dulcian, baroque cello, theorbo and baroque guitar by Giovanni Legrenzi (1626-1690) and Johann Rosenmuller (1619-1684) will be featured, along with their Venetian contemporaries. Readings from historical texts about the Foundling Hospitals, and poetry inspired by them will also paint vivid portraits of the lives of these composers and the women who studied under their tutelage.
Highlights from this calendar are included in the weekly E-Notes email newsletter (Tuesdays). Selections are made based on variety of event types and geographic regions.
EMA does not share non-EMA events on our social media platforms.