Household Member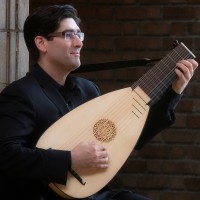 CONTACT INFORMATION
Saint-Jean-Port-Joli, QC

418 241-6223
test@test.com
http://www.michelangers.ca
EARLY MUSIC AFFILIATION(S)
Professional Performer, Teacher


INSTRUMENT(S) PLAYED
Guitar, Lute, Theorbo


BIOGRAPHY
Michel Angers, theorbist, lutenist and guitarist. After getting his master degree from Laval University in Québec, he has been awarded highest distinction from Quebec Music Conservatory. In 2005, Michel Angers won the Canadian Music Competition in the classical guitar category.
Granted by many cultural organizations he has been a scholar of Tafelmusik Baroque Summer Institute, Oberlin Baroque Performance Institute (Lucas Harris) and Early Music America which gave him the opportunity to attend the Accademia d'Amore in Seattle to study under Stephen Stubbs direction. In 2011, Michel Angers won the Award to the artistic creation presented by the Conseil des arts et des lettres du Quebec. Twice a grant holder of the Marco Fodella Foundation, Michel Angers specialized in early music under Paul Beier, at the International Academy of Music in Milan.
Michel Angers plays in numerous artistic projects for various ensembles as a continuo player (Tafelmusik, Les Violons du Roy, Les Idees Heureuses, Da Sonar & Ensemble Anonymus) and as a soloist in America and Europe. He is a recording artist for famous Italian label Stradivarius.
CURRENT ENSEMBLE(S)
Consort Baroque Laurentia
Mrs. Peggy Belanger Household Member 2
CONTACT INFORMATION
Saint-Jean-Port-Joli, QC


MUSIC
No Music Found
EVENTS
No Events Found