EMA Archived Artciles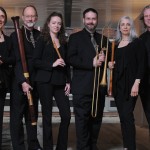 Anne Schuster Hunter
Piffaro members, from left, Joan Kimball, Bob Wiemken, Priscilla Herreid, Greg Ingles, Christa Patton, and Grant Herreid. (Photo by Church Street Studios) The Renaissance Band Brings Back the World of Don Quixote By Anne Schuster Hunter The 400th anniv …

Jay Harvey
The festival will mark its 50th-anniversary season with a host of enticing programs. "If music be the food of love, play on," begins the most famous opening speech in Shakespeare. The line also supplies the title for the concert that will launch the 50 …

Judith Malafronte
A recent press trip to Israel piqued my interest in that fascinating country's early-music scene. Israel is at once ancient and new, like so much of what we are trying to do in our field, and I was curious about the history of the early-music revival, …

Susan Hellauer
The admired a cappella ensemble bids the world farewell after three decades of radiant artistry. Sunday morning, August 3, 1986. The Upper West Side of Manhattan had been deserted by anyone who could get away, and not many showed up on West 99th Street …

Colin Eatock
Conductors with roots in early music are taking their expertise to symphony orchestras. There was a time, not so long ago, when modern performers tended to be wary of the early-music movement. Often, these two musical communities stood with their backs …

Judith Malafronte
Many people think a peace treaty was signed after the vibrato wars of the 1970s, when the plush string textures of the modern symphony orchestra were challenged by the leaner sound of historical instruments. Eliminating vibrato, along with playing on gut strings, was the most noticeable mark of historically informed performance style. Before it was even called HIP, employing "authentic instruments" set early-music players apart from symphony orchestras, and singing with a pristine, boy-like sound marked a new vocal coloring.

By Debra Nagy
"For some reason during tonight's rehearsal everything I have to do in the next few weeks finally sunk in. From November 10 to 23: 5 performances, 5 instruments, 4 styles, 3 pitches, and 2 time zones. I love my job, but the universe owes me a beer." My initial response was, "only 2 time zones?"

By Ross W. Duffin
A prof from Ohio guides collegiate singers in Cambridge, England, in the illuminating tuning system known as Just Intonation.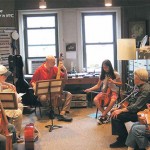 By Tina Chancey
John Mark Rozendaal combines Eastern and Western teaching techniques to introduce the viol to a wide range of learners.