Congratulations to this year's EMA Annual Award winners, Lyle Nordstrom, Eric Rice, and Nina Stern/S'Cool Sounds for their achievements in the early music field. Please find their bios underneath each award description below. 
---
If you would like to nominate an early musician and/or educator for annual Early Music America award, please complete the nomination form at the bottom of this page and submit by December 31, 2019.
---
Thomas Binkley Award
Eric Rice is the 2019 recipient of the Thomas Binkley Award for outstanding achievement in performance and scholarship by the director of a university or college early music ensemble. This award is named for the legendary lutenist and educator Thomas Binkley, who taught at the Schola Cantorum Basiliensis, made ground-breaking recordings with the Studio der Frühen Musik, and served as founding director of the Early Music Institute at Indiana University. The award recognizes outstanding achievement in both performance and scholarship by the director of a university or college collegium musicum.
"I am deeply honored to receive Early Music America's Thomas Binkley Award. Robert Greenlee, who introduced me to the richness of early repertory at Bowdoin College, was a student of Binkley's, and so in some ways, the gratitude I feel for entering a field that has given me so much joy is due to Binkley as well. I am grateful to my colleagues at the University of Connecticut and in Ensemble Origo, particularly Mary Gerbi, who has shouldered many a logistical burden for me. I am also extremely grateful to my students, whose hard work and advocacy for the repertory and their ensemble is an inspiration." -Eric Rice
PAST RECIPIENTS
2018: Risa Browder and John Moran
2017: Angela Mariani
2016: Julie Andrijeski
2015: Paul O'Dette and Christel Thielman
2014: Adam and Rotem Gilbert
2013: Robert Eisenstein
2012: Arthur Haas
2011: Wendy Gillespie
2010: William Mahrt
2009: Steven Plank
2008: Hank Knox
2007: Sarah Mead
2006: James Tyler
2005: Ross Duffin
2004: Robert Mealy
2003: Jeffery T. Kite-Powell
2002: Gerald Hoekstra
2001: Mark Cudek
2000: Lyle Nordstrom
1999: Jack Ashworth
1998: Daniel M. Johnson
---
Howard Mayer Brown Award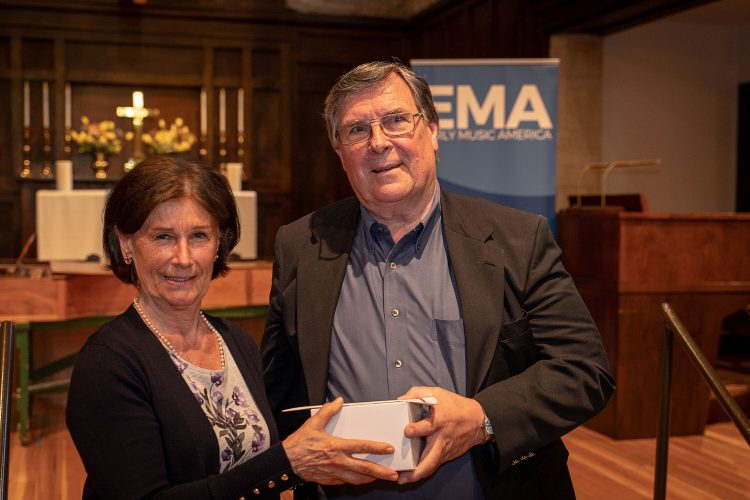 Lyle Nordstrom is the 2018 recipient of the Howard Mayer Brown Award for lifetime achievement in the field of early music. This award is named in memory of the renowned and beloved musicologist from the University of Chicago, Howard Mayer Brown.
During his 56 years of performing early music, Lyle's thrust has always been as a strong advocate and teacher of this music. Leading people into the workings and joys of this music, both as performers and listeners, has brought a great satisfaction to him and his wonderful wife, Patricia, who has been performing and facilitating at every stage along the way.
PAST RECIPIENTS:
2018: Ross Duffin and Bev Simmons
2017: Thomas Forrest Kelley
2016: Louise Basbas
2015: William Monical
2014: Jeanne Lamon
2013: James Nicolson
2012: José Verstappen
2011: Kathleen Fay
2010: Benjamin Bagby
2009: Stanley Ritchie
2008: Robert Cole
2007: Mary Springfels
2006: Alejandro Enrique Planchart
2005: Friedrich and Ingeborg von Huene
2004: Laurette Goldberg
2003: Joel Cohen
2002: Philip Brett
2001: Timothy McGee
2000: Michael & Kay Jaffee
1999: George Houle
1998: George Hunter
---
Laurette Goldberg Award
Nina Stern and S'Cool Sounds are the 2019 recipients of the Laurette Goldberg Award for lifetime achievement in early music outreach. Named for teacher, performer, author, and musical innovator Laurette Goldberg, this award recognizes ongoing, outstanding achievement in educational or outreach endeavors by individual performers, teaching artists, or ensembles. With the Laurette Goldberg Award, EMA celebrates work that draws new audiences or practitioners, or engages such communities in a new manner; that achieves remarkable breadth or depth of reach, seen in numbers of people engaged or in hours of engagement; and that stands to leave a lasting mark on the historical performance field, by transforming the communities served or by modeling practices that can be replicated and developed by others in the profession.
"What began as a vision is now a community that believes in social connectedness, in stimulating creativity and imagination, and in giving the gift of music. By making music together we tell our stories and listen closely to the stories of people around us and far away – communicating and connecting in a way that is more important than ever."
-Nina Stern
PAST RECIPIENTS:
2018: The Rose Ensemble
2017: Voices of Music
2016: Ron Cook
2015: Shulamit Kleinerman
2014: Margriet Tindemans
2013: Grant Herreid
2012: Chatham Baroque
2011: Piffaro, The Renaissance Band
2010: Phillip Serna
2010 Lifetime Early Music Outreach Award Judith Davidoff
2009: Jerry Fuller
2009 Special Early Music Outreach Award
2008: Arcadia Players
2008 Special Early Music Outreach Award
2007: Sarasa Ensemble
---
Early Music Brings History Alive Award (1998-2006)
This award acknowledged the importance of educational outreach in early music, and exposing the next generation to its delights and wonders.
RECIPIENTS:
2006: New York State Early Music Association
2005: Nina Stern
2005 Special Award for Outstanding Contributions to Early Music Education: Mark Cudek
2004: Peggy Monroe
2003: Piffaro, The Renaissance Band
2003 Honorable Mention: David Coffin
2002: American Classical Orchestra
2001: No Award
2000: Ensemble Musical Offering
1999: Chatham Baroque
1998: Nottingham Fair
---
Please complete the form below to enter a nomination for an EMA Annual award in 2020. Deadline for nominations is December 31, 2019.