This award honors individuals who, in their roles as leaders of collegiate early-music ensembles, have made outstanding contributions to the study and performance of early music.
This award is named for the legendary lutenist and educator Thomas Binkley, who taught at the Schola Cantorum Basiliensis, made ground-breaking recordings with the Studio der Frühen Musik, and served as founding director of the Early Music Institute at Indiana University.
2022 Recipient: Anne Azéma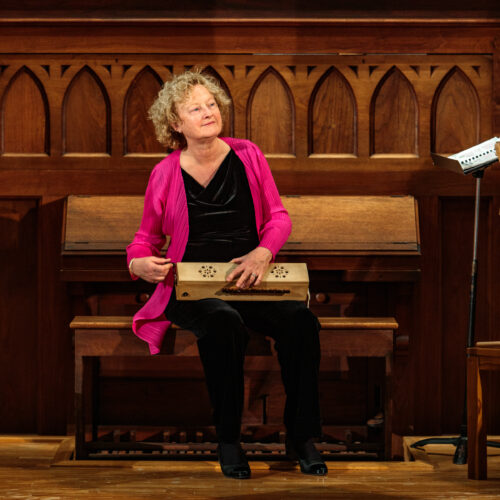 "I am moved and honored to be awarded the Thomas Binkley Award. I would like to think that my contribution as a teacher honors Tom's vivid example as a creator, scholar, performer and educator ; that his encompassing vision about music, and early music in particular, can be passed on to us, his successors. I am thankful to all my students for contributing to my deeper knowledge of the human soul and for the privilege of sharing with them the joyful power of music making." – Anne Azéma
French-born vocalist, scholar, educator, and stage director, Anne Azéma has directed The Boston Camerata since 2008 and the French ensemble Aziman, which she founded, since 2005. Intensely engaged since her student days with the song repertoire of the Middle Ages, she is esteemed as a charismatic solo performer. But she is also widely admired for her creative skill in building and directing complete musical productions of varied styles and periods, both for her recital programs and for larger ensemble forces (concert and stage) in Europe and the United States.
Anne Azéma is currently a faculty member at the Longy School of Music of Bard College. Among her extensive teaching activities are master classes, seminars, and residencies at conservatories and universities here in the US and abroad. She has contributed articles to scholarly and general audience publications. Ms. Azéma was the Robert M. Trotter Distinguished Visiting Professor at the University of Oregon, Eugene in 2012 and 2020. She has been invited to lecture at New York University, Harvard University, Massachusetts Institute of Technology, Brandeis and Boston University, Boston College, the Fondazione Benetton, Fondazioni Cini, and the Schola Cantorum Basiliensis. In 2017, she was presented with the Distinguished Artist Award of the Saint Botolph Foundation, Boston. Her second film appearance received two prizes at the Montréal FIFA (2014). Anne Azéma's new collaboration with the label Harmonia Mundi grew from two programs of early American music commissioned in 2018 by the Philarmonie de Paris. In 2021, Ms. Azéma was named Officier de l'ordre des Arts et des Lettres by the French Government.
Past Recipients
2021: Gwyn Roberts
2020: Kenneth Kreitner
2019: Eric Rice
2018: Risa Browder and John Moran
2017: Angela Mariani
2016: Julie Andrijeski
2015: Paul O'Dette and Christel Thielman
2014: Adam and Rotem Gilbert
2013: Robert Eisenstein
2012: Arthur Haas
2011: Wendy Gillespie
2010: William Mahrt
2009: Steven Plank
2008: Hank Knox
2007: Sarah Mead
2006: James Tyler
2005: Ross Duffin
2004: Robert Mealy
2003: Jeffery T. Kite-Powell
2002: Gerald Hoekstra
2001: Mark Cudek
2000: Lyle Nordstrom
1999: Jack Ashworth
1998: Daniel M. Johnson