For lifetime achievement in the field of early music
This award is named in memory of the renowned and beloved musicologist from the University of Chicago, Howard Mayer Brown.
Brown's scholarship covered a wide range of subjects. He published on the music of the Renaissance, especially the chanson and instrumental music, and frequently returned to problems in historical performance practice, a subfield in which he was one of the most important commentators.
Nominations are currently closed.
2023 Recipient: Arthur Haas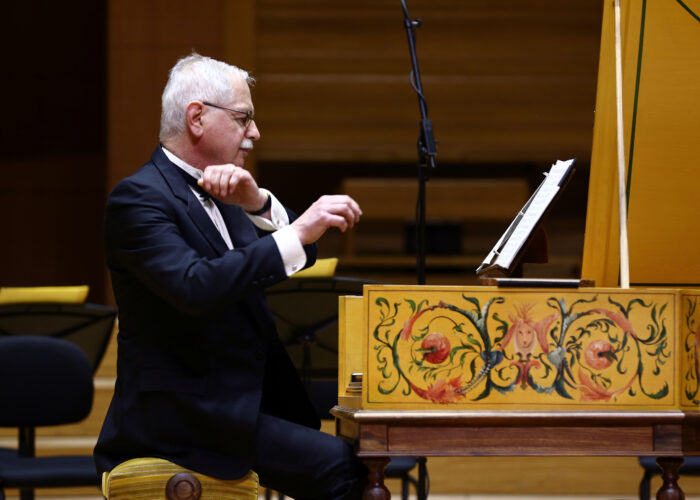 I am incredibly honored to be the 2023 recipient of the Howard Mayer Brown Award for Lifetime Achievement in the field of Early Music. And with immense gratitude, I happily accept the award. Since my earliest days under the guidance and influence of such notables as Albert Fuller, Kenneth Gilbert, Gustav Leonhardt, and above all, Alan Curtis, I have sought to uncover the glorious secrets of early music and combine that with my own 20th and 21st century sensibilities. I've done this in my own playing, and have always tried to impart these ideals to my students. And I continue in this quest. Thank you, Early Music America. – Arthur Haas
Arthur Haas is one of the most sought-after performers and teachers of Baroque music in the United States today. He received the top prize in the Paris International Harpsichord Competition in 1975 and then stayed in France for a number of years as an active member of the growing European early-music scene. While in Paris, he joined the Five Centuries Ensemble, a group acclaimed for its performances and recordings of Baroque and contemporary music. For 30 years, he was a member of the Aulos Ensemble, one of America's premier period instrument ensembles, whose recordings of Bach, Vivaldi, Telemann, Couperin, and Rameau won critical acclaim in the press, as well as Empire Viols, and the exciting new group, Gold and Glitter. He has recorded harpsichord music of Jean-Henry D'Anglebert, Forqueray, Purcell and his contemporaries, Elisabeth Jacquet de La Guerre, François Couperin, Bernardo Pasquini, and the complete harpsichord works of Rameau. Most recent concert appearances include 7 performances of Bach's Goldberg Variations all over the US since 2021. Annual summer workshop and festival appearances include the Virginia Baroque Academy, Portland (ME) Bach Virtuosi Festival, and the Amherst Early Music Festival, where he served as artistic director of the Baroque Academy from 2002 to 2011. Haas is professor of harpsichord and early music at Stony Brook University where he leads the award-winning Stony Brook Baroque Players and is Visiting Professor of Harpsichord at the Yale School of Music. He was also a founding faculty member of Juilliard's historical performance program.
Past Recipients
2022: David Douglass & Ellen Hargis
2021: Joan Kimball and Robert Wiemken
2020: Mark Kroll
2019: Lyle Nordstrom
2018: Ross Duffin and Beverly Simmons
2017: Thomas Forrest Kelly
2016: Louise Basbas
2015: William Monical
2014: Jeanne Lamon
2013: James Nicolson
2012: José Verstappen
2011: Boston Early Music Festival
2010: Benjamin Bagby
2009: Stanley Ritchie
2008: Robert Cole
2007: Mary Springfels
2006: Alejandro Enrique Planchart
2005: Friedrich and Ingeborg von Huene
2004: Laurette Goldberg
2003: Joel Cohen
2002: Philip Brett
2001: Timothy McGee
2000: Michael & Kay Jaffee
1999: George Houle
1998: George Hunter