For achievement in early music outreach
Named for teacher, performer, author, and musical innovator Laurette Goldberg (1932-2005), this award recognizes ongoing, outstanding achievement in educational or outreach endeavors by individual performers, teaching artists, or ensembles.
With the Laurette Goldberg Award, EMA celebrates work that draws new audiences or practitioners, or engages such communities in a new manner; that achieves remarkable breadth or depth of reach, seen in numbers of people engaged or in hours of engagement; and that stands to leave a lasting mark on the historical performance field, by transforming the communities served or by modeling practices that can be replicated and developed by others in the profession.
Read about Laurette Goldberg in an article reprinted from the San Francisco Bay Area Early Music News in May, 2005.
2022 Recipient: Debra Nagy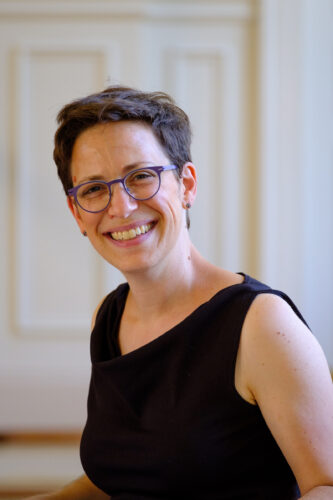 "On behalf of myself and the board and staff of Les Délices, thank you so much to EMA for this important recognition! We've worked pretty tirelessly over the last few years to develop SalonEra and our other virtual outreach programs and we are very passionate about using this work to elevate diverse voices and repertoires and to expand general audiences for early music. While the music we love to share may be old, we remain committed to utilizing new formats and technologies to meet listeners and viewers where they are – whether that's on a computer, tv, phone, or through live performance in the community. It's an honor to receive this award named for such a creative, passionate, and dedicated community builder and early music advocate, Laurette Goldberg." – Debra Nagy
Debra Nagy has acquired a reputation for creating fascinating and inviting concert experiences through her work with Les Délices. A musical polymath whose performances and expertise stretch from late-Medieval music through the Classical period, Nagy draws on "her rolodex of superb musicians" (ClevelandClassical.com) to introduce audiences to artists and repertoires that might not otherwise show up on their radar. Recent social unrest and the restrictions of the COVID-19 Pandemic inspired several initiatives: Debra was a leader in reconceiving Les Délices' concerts for the virtual space and created a webseries variety show for early music called SalonEra. Critics called the concerts "sensational," and "a cultural gift" while SalonEra opened a world of music to audiences at home. Produced remotely, SalonEra brings together regular contributors and special guests whose personalities, perspectives, and contributions set the stage for fascinating conversations and fulfilling artistic exchange. Since Sept 2020, SalonEra premiered 29 original episodes, 80 remote musical collaborations, and created feature opportunities and paid micro-engagements for over 60 artists. In 2022-23, SalonEra anticipates producing 6 new video episodes and will launch a companion audio podcast. Les Délices' other outreach initiatives include Early Music Explorations (a video enrichment series for students in grades 3-7) and Music Meditations (a podcast and telephone hotline combining archival performances, poetry, and prompts for guided listening). Visit www.salonera.org and www.lesdelices.org/outreach to learn more.
Past Recipients
2021: Elam Rotem
2020: Oberlin Baroque Performance Institute
2019: Nina Stern and S'Cool Sounds
2018: The Rose Ensemble
2017: Voices of Music
2016: Ron Cook
2015: Shulamit Kleinerman
2014: Margriet Tindemans
2013: Grant Herreid
2012: Chatham Baroque
2011: Piffaro, The Renaissance Band
2010: Phillip Serna
2010: Judith Davidoff
2009: Grace Feldman
2008: Arcadia Players
2008: Tina Chancey
2007: Sarasa Ensemble