EMA values the outreach projects of individuals and organizations throughout Early Music Month each March. The Early Music Month Mini-Grant initiative was established in 2019 to support these efforts through supplemental funding awarded to creative projects.
Mini-Grant Details
Mini-grants of $400 will be awarded for projects to be held in North America as part of Early Music Month in March of each year. Successful projects will seek to expand the reach of early music in your community. EMA welcomes and encourages creative proposals for in-person, virtual, and hybrid events. The application is open to EMA members and non-members.
EMM Mini-Grant Recipients are expected to submit high-resolution photos and/or video of their project activities and a brief written reflection on the impact of the project no later than April 30. Submission of this form constitutes acknowledgement of these requirements.
TIMELINE:
Applications are available in November-December of each year.
Recipients are notified and funds dispersed mid-January.
Questions about the application process can be submitted through the EMA contact form.
The application is currently closed and will reopen in Fall 2023 for 2024 Mini-Grants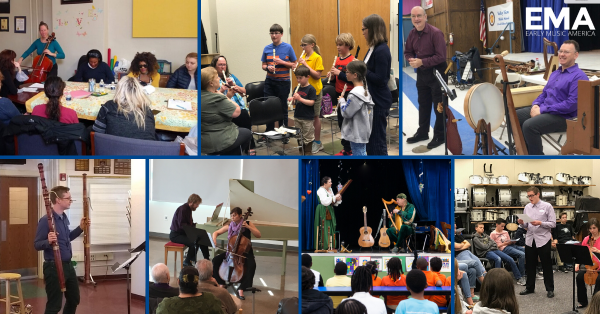 2023 Mini-Grants
Early Music America is pleased to award the following ensembles and organizations Early Music Month Mini-Grants for projects to be held during March 2023. The judges where impressed by the scope of these proposals and their potential to expand the reach of early music.
We look forward to sharing more about these projects as they occur throughout Early Music Month.
Grantees
Early Music Missouri (St. Louis, MO)
Project: Suzuki Community Meets Early Music
EMMo was recently invited to offer a performance/demonstration at the Southern Illinois University-Edwardsville Suzuki Department String Workshop in early March 2023. Early Music Missouri will offer a special guest presentation on Baroque string instruments and a performance featuring Baroque music, including pieces that play a role in Suzuki teaching and repertoire. In addition to the structured presentation, the musicians will also meet informally with students, teachers and parents for close-up looks at Baroque instruments and facsimiles of original scores as well as one-on-one questions.
Ensemble 126 (Salt Lake City, American Fork, Ephraim, and Cedar City, Utah)
Project: Utah Tour
On March 10-17, Ensemble 126 will tour throughout the state of Utah. The group will perform and give workshops at K-12 schools, universities and the Utah Flute Association Spring Festival. The program will highlight composers from historically underrepresented groups, and two of the works will be performed on baroque flutes and recorders. Ensemble 126's concerts featured our varied programming that includes old and new music to introduce audiences to historically informed performance practice who would not normally know or be familiar with the movement.
La forza delle stelle | Baroque Orchestra (Montclair, NJ)
Project: Baroque Adventures for Children (BACh)
Baroque Adventures for Children (BACh) focuses on introducing young children—primarily ages 3–8—to Baroque music and period instruments. The program is specifically geared toward very young children in the Pre-K through 2nd grade age range, who are often left out of classical music programming, even programs designed for children. The inaugural BACh program will happen during the first week of March 2023
Musicians of the Old Post Road (Hudson, MA)
Project: Outreach Presentation for Hudson High Music Students
The ensemble will bring an educational presentation about Baroque music to instrumental and vocal students at Hudson High School. The group will use excerpts of its "Baroque Diva" program to discuss improvisation and ornamentation aspects of Baroque music while introducing students to period instruments. The program centers on composers who were inspired by or closely associated with Baroque superstar vocalist Faustina Bordoni.
Wyoming Baroque (Sheridan, WY)
Project: Early Music Class at Sheridan College
Wyoming Baroque will perform a regional tour of Wyoming during Early Music Month with a college and community class in Sheridan, Wyoming, on Friday, 03/31 for the Sheridan College Music Department music majors, non-majors, community members, and arts faculty. The class will provide an overview of historically informed performance principles and feature instrument demonstrations presented by each of the seven members of the ensemble.
Previous Recipients
2021
Camerata XXXI / Tijuana, Baja California
Concordian Dawn / New York, NY & San Francisco, CA
Eudaimonia, A Purposeful Period Band / Somerville & Maynard, MA
Forgotten Clefs / Bloomington & South-Central, IN
La Grande Bande / Davenport, IA
L.A. Camerata / Los Angeles, CA
The Mirandola Ensemble / Minneapolis, MN
The New York Baroque Dance Company / Ithaca, NY
Sarasa Chamber Music Ensemble / Cambridge, MA
Seattle Historical Arts for Kids / Virtual
Tempesta di Mare / Philadelphia, PA
Trobár / Cleveland, OH
2020
Alkemie Early Music Ensemble – "Alkemie & Friends" – a series of informal, musically experimental, and multi-sensory concerts in non-traditional venues.
Baroque Viola Society of Cambridge – a performance to promote cultural diversity, the art of Early Music, and to initiate a partnership with the Center for Arabic Culture
Early Music City – present an interactive program for young students at Salama Urban Ministry
JANUS Ensemble – inaugural performance at Enroot Education Organization for Immigrant Students
La Donna Musicale – to help fund performances, lectures, and outreach efforts of the music of the Early Music woman composer, Maria Teresa Agnesi (1720-1795)
Los Angeles Baroque – a community orchestra exchange program with Kensington Baroque Orchestra (San Diego)
Savannah Baroque – to participate in the Rice Creek School's "Exceptionally Musical" evening.
Sunderland Elementary School Advanced Recorder Club – "Recorder Club Mini-tour 2020"
2019
Los Goytx, Simi Valley, CA – to present an educational program of early wind instruments at Simi Valley Middle School .
The Harper and The Minstrel, Miami, FL – to present early music education program with the Miami Music Project
Sarah Huebsch Schilling, Richmond, VA – to present "Reeds of the Past" bringing 200 years of woodwind history to Richmond high school band programs.
Great Basin Baroque, Salt Lake City, UT – to collaborate with the Salt Lake City Public Library to bring historically-informed performance to the community for free.
Sprezzatura, El Paso, TX – to establish a series of early music events at local public libraries.
Kansas City Baroque Consortium, Kansas City, MO – to present "Swirls, Twirls, Stomps and Curls. The ins and outs of Baroque style." a performance and interactive workshop with students participating in the Harmony Project KC.
Burning River Baroque, Cleveland Heights, OH – to present "The Other Side of the Story: Untold Perspectives on Familiar Tales" in a series of eight concerts during March at a variety of music venues from house concerts to an inner-city warehouse.
Dr. Ka-Wai Yu, St. George, UT – to help fund a performance, masterclass, and outreach projects at Dixie State University