EMM Partner Toolkit
Return to Early Music Month Homepage
EMM Partner Toolkit
Resources to help you make Early Music Month a success. We continue to add to this toolkit, so please check back for more as Early Music Month approaches. If you have suggestions for materials, let us know!
EMA awarded eight mini-grants of $250 to individuals or organizations for projects to be held in North America as part of Early Music Month in March 2019. Successful projects seek to expand the reach of early music in their community.
Congratulations to the following individuals and organizations who were awarded 2019 Early Music Month Mini-Grants:
Los Goytx, Simi Valley, CA – to present an educational program of early wind instruments at Simi Valley Middle School .
The Harper and The Minstrel, Miami, FL – to present early music education program with the Miami Music Project
Sarah Huebsch Schilling, Richmond, VA – to present "Reeds of the Past" bringing 200 years of woodwind history to Richmond high school band programs.
Great Basin Baroque, Salt Lake City, UT – to collaborate with the Salt Lake City Public Library to bring historically-informed performance to the community for free.
Sprezzatura, El Paso, TX – to establish a series of early music events at local public libraries.
Kansas City Baroque Consortium, Kansas City, MO – to present "Swirls, Twirls, Stomps and Curls. The ins and outs of Baroque style." a performance and interactive workshop with students participating in the Harmony Project KC.
Burning River Baroque, Cleveland Heights, OH – to present "The Other Side of the Story: Untold Perspectives on Familiar Tales" in a series of eight concerts during March at a variety of music venues from house concerts to an inner-city warehouse.
Dr. Ka-Wai Yu, St. George, UT – to help fund a performance, masterclass, and outreach projects at Dixie State University
We look forward to sharing more about these projects leading up to and during Early Music Month. Thank you to the dozens of others who submitted projects throughout North America. The committee was overjoyed to see the many activities planned by dedicated and enthusiastic supporters of early music.
Expanding Your Reach Through Early Music Month
EMA hosted a free webinar on Monday, January 21, 2019 featuring a panel of organizers who shared their experience planning Early Music Month events to reach out to new and diverse groups within their community. Watch the archived video.
There are many ways to celebrate Early Music Month, below you will find just a few ideas to spur your imagination!
Anyone!
Use #EarlyMusicMonth when discussing early music online throughout March
Change your social media profile image in honor of Early Music Month
Add an Early Music Month badge to your Facebook or Twitter profile picture. (Badge available at the beginning of March.)
Make a donation to an early music organization in honor of Early Music Month
Contact your local media outlets, early music organizations, or institutions, and ask them to observe Early Music Month
Ensembles and Performers
Dedicate a concert in March to Early Music Month
Host a meet the instruments session
Hold a masterclass
Media Organizations
Dedicate an hour, day, week, or the entire month of March to Early Music Month
Feature early music in programming, articles, or other materials
Interview and feature members of the early music community in your area
Academic Institutions and Scholars
Host a conference, workshop, or lecture on an early music-related topic
Feature your research or courses that highlight early music
EMM print flyer (b/w)
EMM print flyer (color)
(click photos to access and download full resolution files)
PNG Format (transparent)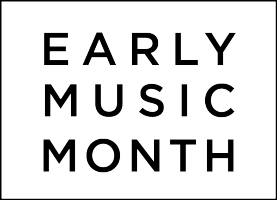 JPG Format (white background)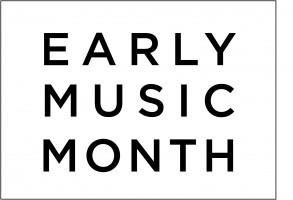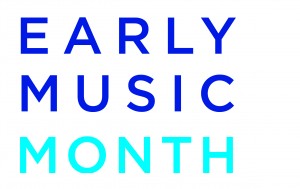 What EMA will do
What will EMA do for you?
Throughout March, and as it approaches, be sure to keep Early Music America up-to-date with what you are doing to celebrate Early Music Month!
After posting content to your own site and social media using the hashtag #EarlyMusicMonth, submit your information using the submission form found on the Early Music Month homepage, and we'll help promote you:
On EMA's website, including front page features in our News section and in our list of Early Music Month partners.
In our E-Notes Weekly publication, which is emailed to more than 6,000 subscribers every week.
Through our social media pages, including Facebook, Twitter, and Instagram.
On our Early Music Month Events Calendar, which will be featured throughout March.