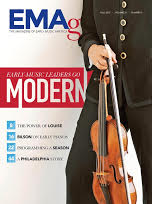 Published:
August 24, 2015
A Season Begins by Donald Rosenberg One of the missions of EMAg is to explore the new in the old—to discover how music that's been around for a long time

The free Gramophone Awards Shortlist 2015 digital magazine contains the complete original reviews of each of the 72 recordings shortlisted for Gramophone Awards this year. Once again, the Instrumental category

Published:
August 13, 2015
EMA's fourth Medieval and Renaissance Competition will take place at the Peabody Conservatory in Baltimore, Maryland on October 1, 2016. Our competition brings together some of the brightest up-and-coming performers
Have an interesting article or information about your organization to share? Send It to EMA!