Joan Benson (1925-2020)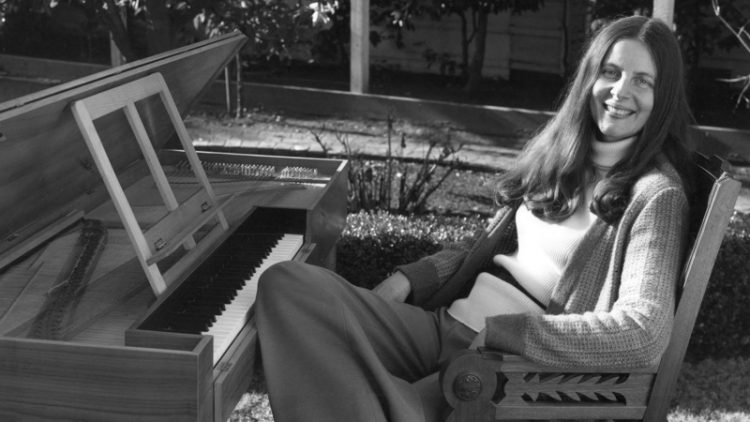 The Joan Benson Clavichord Award, launched in 2021, is an annual award for a current outstanding clavichord artist, teacher, researcher, composer, clavichord maker or organizer of clavichord symposiums, master classes or sessions for children. The intention is to show the significance of soft, tender tones through the clavichord. The awardee will have awakened a vivid appreciation for this delicate keyboard instrument and shown its unique ability to express music through delicate, dynamic-rich, highly-nuanced sounds.
The distinguished keyboardist Joan Benson died on January 1, 2020, aged 94. She studied with Percy Grainger at Interlochen before traveling to Europe, where she worked with Edwin Fischer and Olivier Messiaen. In the second half of her life, she taught at Stanford and the University of Oregon and was one of the early proponents of the works of C.P.E. Bach.
Read More:
Joan Benson: Clavichord Champion, published by Early Music America in April 2018

2019 Review of The Joan Benson Collection: Clavichord and Fortepiano
Selection Committee
A voluntary selection committee nominated by Joan Benson will choose the recipient of the Joan Benson Clavichord Award. Their decision is final.
Previous Recipients
2021: Anna Maria McElwain
2022 Recipient: Carol lei Breckenridge
I am truly honored to be named the 2022 recipient of Early Music America's Joan Benson Clavichord Award. Although I had only one lesson with her, Joan Benson has been a genuine mentor and inspiration for my own clavichord playing, as I explore the expressiveness and subtle nuance that has drawn me to this so personal instrument.
Carol lei Breckenridge specializes in eighteenth-century music on clavichord and fortepiano.
Degrees in piano performance from The University of North Carolina – Chapel Hill (B.M. and M.M.) and University of Iowa (D.M.A.) have been augmented with a 1997-98 Fellowship at Cornell University, studying fortepiano and Classical style with Malcolm Bilson, as well as lessons and masterclasses on harpsichord with Edward Parmentier and Joan Benson on clavichord. Carol lei was awarded the Joan Kuyper Farver Chair in Music at Central College in Pella, Iowa (USA), where for over 30 years she taught piano, early keyboards, and music literature courses.
The personal expression fostered by the clavichord sparked her special love for the instrument. Carol lei is especially eager to share the knowledge she has gained from playing and voicing this foundational instrument for 18th-century music.
Clavichord performances include: a C.P.E. Bach Symposium at Cornell University; the International Clavichord Symposium in Magnano, Italy; an inaugural recital of a Swedish clavichord at the National Music Museum in Vermillion, South Dakota; a program for the Dutch Clavichord Society; and programs for the Historical Keyboard Society of North America and the Western Early Keyboard Association, as well as masterclasses for students.
After extensive voicing by Paul Irvin and herself, using Stephen Birkett's historical wire, and repining with softer brass, Carol lei has recorded all her keyboard instruments. In 2021, the Western Early Keyboard Association sponsored a video of her program "Haydn and Keyboards of His Time," performed on clavichord, harpsichord, and fortepiano. (view below)
Carol lei lives in the Pacific Northwest of the United States. 
---