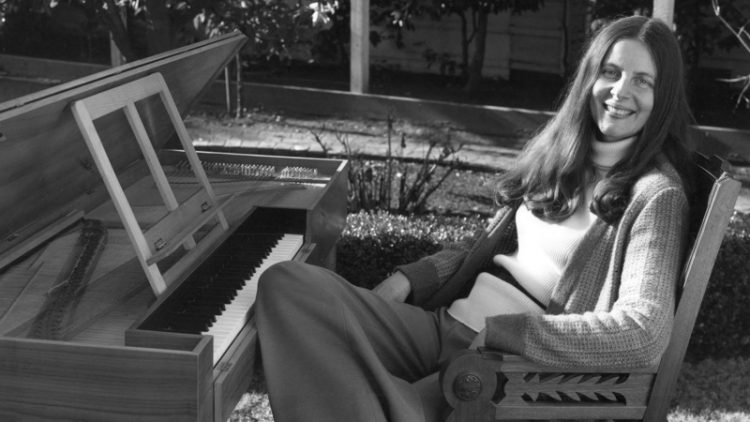 Joan Benson (1925-2020)
Read More:
Joan Benson: Clavichord Champion, published by Early Music America in April 2018

2019 Review of The Joan Benson Collection: Clavichord and Fortepiano
The Joan Benson Clavichord Award, launched in 2021, is an annual award for a current outstanding American clavichord artist, teacher, researcher, composer, clavichord maker or organizer of clavichord symposiums, master classes or sessions for children. The intention is to show the significance of soft, tender tones through the clavichord. The awardee will have awakened a vivid appreciation for this delicate keyboard instrument and shown its unique ability to express music through delicate, dynamic-rich, highly-nuanced sounds.

The distinguished keyboardist Joan Benson died on January 1, 2020, aged 94. She studied with Percy Grainger at Interlochen before traveling to Europe, where she worked with Edwin Fischer and Olivier Messiaen. In the second half of her life, she taught at Stanford and the University of Oregon and was one of the early proponents of the works of C.P.E. Bach.

A voluntary selection committee nominated by Joan Benson will choose the recipient of the Joan Benson Clavichord Award. Their decision is final.
Previous Recipients
2022: Carol lei Breckenridge
2021: Anna Maria McElwain
2023 Recipient: Alissa Duryee
Alissa Duryee is a Franco-American keyboardist, composer, and teacher. She began her musical studies at the piano, discovering the clavichord during her undergraduate study at Vassar College, under the guidance of Kathryn Libin. She later came to Paris to study piano with Gérard Frémy and Guigla Katsarava at the Ecole Normale de Musique in Paris.
As a Harriet Hale Woolley Foundation Fellow, she continued her interest in historic instrument making and keyboards. She first built a fretted clavichord, then a double French harpsichord, before studying these instruments with Olivier Baumont, Noëlle Spieth, and Frédéric Michel. She studied the pianoforte with Patrick Cohen, Malcolm Bilson, Bart van Oort, and David Breitman.  Her organ teachers include Patrick Delabre (repertoire), and Jean-Luc Thellin (improvisation).
In 2020, she completed a recording project featuring the Meerbach clavichord from 1799 preserved at Moravian College in Bethlehem, PA, and excerpts from contemporaneous music notebooks conserved in the local Moravian Archives. Her piece "Forager's Journal" for clavichord won Second Prize at the International Clavichord Composition Competition of the Nordic Historical Keyboard Festival. As an educator she promotes the clavichord, both in masterclasses and as part of a pedagogical approach aimed at teaching a common core of keyboard instrument proficiency from an early age, using multiple keyboards. She continues to develop this approach as a way of improving keyboard culture in music education and strives to integrate historical improvisation into this process. She is "Professeur d'Enseignement Artistique" at the Conservatory in Dreux, France, where she also serves as Assistant Director.
As a performer, her repertoire ranges from early music to contemporary creation, as well as what's in between. As a chamber musician, she forms the Duo Dialogues with cellist Jérôme Huille (winners of the "Music au Centre" competition) as well as the flutist and composer Ivane Béatrice Bellocq, the soprano Emily Eagen, and other ensemble contexts (including musical theater and dance collaborations).
As a composer (primarily of keyboard music) she explores the idiosyncrasies of different keyboards. She seeks to question the conventions of the classical concert with pieces intended to be heard in the dark, or performances in atypical places (elevator). Alissa was awarded the 2021 Judith Lang Zaimont Prize for her piano cycle "Night Pieces".  In 2022, her Suite for harpsichord was awarded second prize in the SIMM Scuola di Musica competition in Milan.  She also creates works in collaboration with primary and middle school children which enjoy the support of the Departmental Council of Eure et Loir and the Centre-Val de Loire Region.
I am honored to accept the 2023 Joan Benson award, joining its growing list of passionate clavichord professionals. I have enjoyed a rich relationship with the clavichord since first being exposed to it as an undergraduate piano student, then through building an instrument of my own (which has travelled with me through Europe and North America). I have been fortunate to share my love for the clavichord through performance (in situations ranging from the intimate to the cavernous) and teaching (to students of all levels). More recently, my projects have included composing for the clavichord and making recordings. In most of these endeavors, my love for the instrument and its repertoire have been my guiding light- much effort and time has been spent without guarantee that the fruit of my labor will reach the eyes and ears of an attentive audience. The Benson award is a heartwarming acknowledgement of these efforts, a powerful affirmation that there are attentive eyes watching, and attuned ears listening to the sounds of the clavichord. Thank you for this meaningful distinction.

Alissa Duryee