Joan Benson (1925-2020)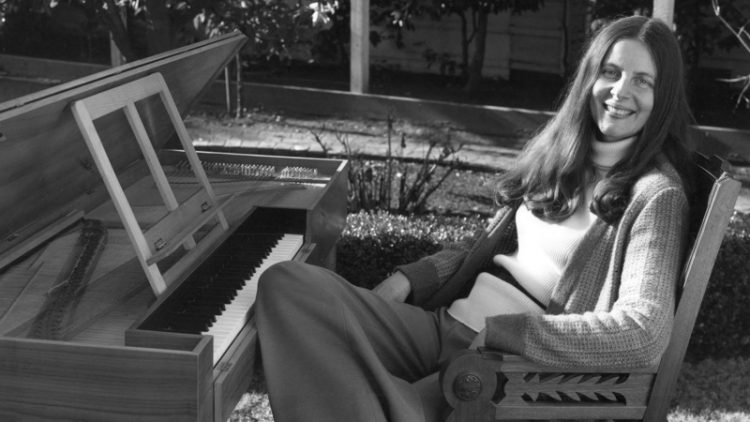 The Joan Benson Clavichord Award, launched in 2021, is an annual award for a current outstanding clavichord artist, teacher, researcher, composer, clavichord maker or organizer of clavichord symposiums, master classes or sessions for children. The intention is to show the significance of soft, tender tones through the clavichord. The awardee will have awakened a vivid appreciation for this delicate keyboard instrument and shown its unique ability to express music through delicate, dynamic-rich, highly-nuanced sounds.
The distinguished keyboardist Joan Benson died on January 1, 2020, aged 94. She studied with Percy Grainger at Interlochen before traveling to Europe, where she worked with Edwin Fischer and Olivier Messiaen. In the second half of her life, she taught at Stanford and the University of Oregon and was one of the early proponents of the works of C.P.E. Bach.
Read More:
Joan Benson: Clavichord Champion, published by Early Music America in April 2018
2019 Review of The Joan Benson Collection: Clavichord and Fortepiano
Selection Committee
A voluntary selection committee nominated by Joan Benson will choose the recipient of the Joan Benson Clavichord Award. Their decision is final.
2021 Recipient: Anna Maria McElwain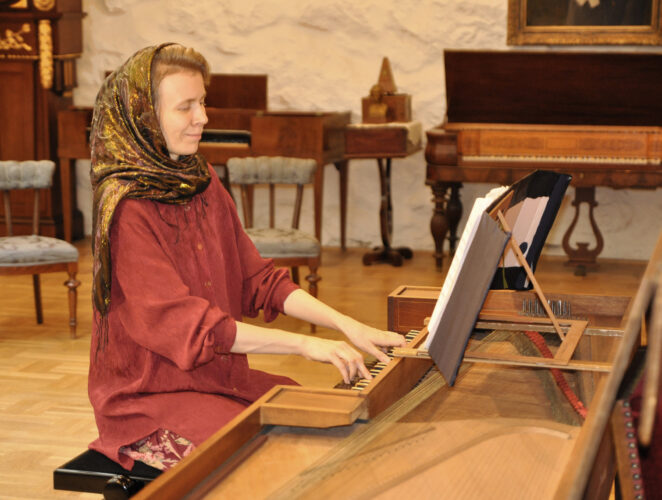 The Finnish-American musician Anna Maria McElwain studied at the Turku Conservatory with Elzbieta Guzek, and later at the State University of New York at Buffalo with Dr. Stephen Manes.
Anna Maria got her first clavichord, built by her father, in 2002 at the age of 29, and has immersed herself in playing the instrument ever since. She studied the clavichord with Dr Pekka Vapaavuori and is the ony student to complete a Master of Music degree in clavichord performance at Sibelius Academy. Anna Maria taught at the Sibelius Academy Kuopio department until 2010 and currently focuses on performing, mainly as a clavichordist. She has performed in the United States and in Europe (Finland, Estonia, Sweden, Denmark, Netherlands, Germany, Hungary, Spain, Italy, and Austria).
She is the co-founder and artistic director of the Nordic Historical Keyboard Festival (2012–present), the founder of the First International Clavichord Competition (2014) and the International Clavichord Composition Competition (2018).
Anna Maria has been active in taking the clavichord to groups of people who do not have access to recitals, and has performed at hospices, hospitals, nursing homes, kindergartens, and schools. She has also been involved in interdisciplinary performances, combining the clavichord with poetry, dance, black light theater, live installation, and the visual arts.
Anna Maria has explored the limits of the clavichord with later repertoire and several contemporary composers have written for her. She wrote a study on "The Clavichordist's View on the Chopin Preludes", which compares the possibilities of the Swedish clavichords with German models. Her first solo recording, "Hours Well Spent," on an 1808 Lindholm clavichord at the Nydahl Collection in Stockholm, was released in November 2013 (Robert Holmin, Ljud&Bild), and is the first ever recording of Beethoven on the clavichord. Her second recording was released in May 2015 and features music of Fux, Johnsen, Lithander, and Beethoven.
Anna Maria has received grants from various foundations in Finland, as well as a Kuopio Stipend in November 2013 from the City of Kuopio for her artistic achievements.
Read the 2021 Benson Award Announcement
Watch an Interview with Anna Maria McElwain and EMA Executive Director Karin Brookes.
---