---
2019 Recipient: Karin Weston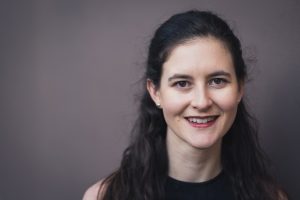 Karin Weston will attend a summer course with Micrologus in Spello, Italy, and will also pursue study of the Occitan language in southern France.
"It was clear to the jury," said Benjamin Bagby, "that Karin's plan to pursue more specific and advanced study in Italy and France in 2019 would be exactly the sort of project that this award was designed to facilitate. Just as Barbara Thornton had spent several youthful summers pursuing similar goals for study in France and Italy, more than 50 years ago, we feel strongly that this is the perfect moment for Karin to expand her studies into the European scene, and we are pleased that this award will help her to realize these goals.
"This scholarship facilitates opportunities for me to learn from musicians whose approaches to medieval song I find inspiring," said Karin, "and allows me to study the Occitan language and pronunciation amongst native speakers in ways that will inform my singing of troubadour song. I look forward to growing as a medieval musician and scholar, and to applying what I learn over this summer in my future work with my colleagues in Trobár."
Karin founded Trobár with Allison Monroe and Elena Mullins three years ago. They have performed in Cleveland, Cincinnati, Washington D.C., and New York, and have held residencies at Avaloch Farm and the University of Louisville.
Karin has a MA in Historical Performance Practice from Case Western Reserve University and a BA in Molecular Biology and Music (Vocal Performance) from Scripps College.
Read Karin's reflection following her Thornton Scholarship-funded study in summer 2019.
---
The 2019 application period is closed. Please check back for updates in January 2021.
Eligibility
Applications are open to a young performer with a passion for medieval music and who seeks to widen their experience through more advanced study and/or auditions in Europe.
Applicants should be citizens of the Americas who are under the age of 35 at the time of application.
Early Music America membership is required of all applicants. Historical performance students qualify for a one-year complimentary student membership. If you are unsure of your membership status, please email info@earlymusicamerica.org.
Materials to be Submitted
Contact Information
Personal Statement
Resume
Music Selections (Solo performances only)
List of Works Performed in #4
Two Letters of Recommendation
Application Instructions and Information
Completed online application forms must be submitted by Monday, April 8, 2019 at 11:59 PM ET.
Letter of recommendations must be submitted by Friday, April 12, 2019 at 11:59 PM ET.
One recipient will receive a $4,000 scholarship.
Scholarship announcement will be made by Friday, May 3, 2019.
Questions may be sent to EMA at info@earlymusicamerica.org
We highly encourage you to submit your application several days prior to the deadline, so we can resolve any issues in a timely matter. We will not be able to accept any applications after the deadline has passed.
Past Recipients
2017: Allison Monroe
2015: Mara Winter
2013: Isabella Shaw
2011: Laura Osterlund
2008: Emily Eagen
2006: Mary E. Larew
2004: Wolodymyr Smishkewych
2001: Moira Smiley